Musicians of Irvington: Valerie Golobic
I started doing musical theater when I was eight years old. My mom put me in a summer camp for the show Annie, and I fell in love with it.
Putting on musicals takes a lot of work; we put in hours and hours all the time. It's also a big mental game sometimes, because there's a lot of comparing yourself to others. It can be really hard mentally and physically, because we're putting in a lot of hours of singing and dancing and acting all at the same time. Acting and singing very much go hand in hand. Especially for musical theater, storytelling is the most important aspect. But I like singing the most because that came easiest to me. Dance is probably the thing I've had to work at the most, but I am really proud of how far I've come.
There's definitely been low points where I've been struggling, but theater is the thing I'm the most passionate about in the world, and I want to do it for the rest of my life. I'm really inspired by two of my coaches, Robert Hartwell and Kate Lumpkin. They're both Broadway people, and they have this company called The Broadway Collective, which I train with. I'm also really inspired by some of my favorite performers, like Sutton Foster.
I am in Frozen right now at Starstruck Theater, a community theater in Fremont, and I'm playing Anna. For any character I play, I try to find something that I can relate to, to help me get into that character. I was in a show where I had to play a newsboy in the 1800s, which is very much not me. But I was able to relate to parts of the personality and the determination behind that character.
I think my favorite show is Wizard of Oz, which I did freshman year. I was Dorothy, and that was my first really big show. Over the summer, I did Legally Blonde. I was playing Elle Woods, who's a lawyer, which was hard because I was 15 and couldn't relate to that very much. Vocally, it was also really hard. Physically, there's a lot of dance and a lot of singing. I was there every day all day over the summer trying to get it down. I feel like every show I've done has really helped me grow as a singer.
I also love getting to do shows with my friends – I love the feeling of opening night and going out to dinner afterwards. It's midnight, we're all still in our makeup and hair, and we look crazy, but it's so much fun.
In the future, I want to pursue a BFA in Musical Theater. Once I graduate, I want to be a Broadway performer. I also want to be a vocal coach for private students on the side. I've already started that certification process of becoming a vocal coach, so I can have two jobs to maintain a stable lifestyle.
About the Contributor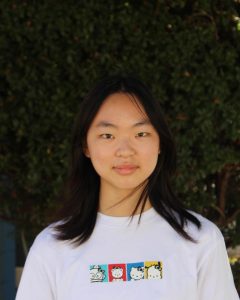 Helen Yuan, Opinions Editor
Helen Yuan (12) is excited to edit for Opinions in her second year at The Voice. She's looking forward to finishing her senior year and graduating. In her free time, Helen overanalyzes poetry and re-organizes her Google Drive folders.