Yearbook's Journey: The Saga
The Saga, Irvington's yearbook, is created every year by Mr. Stilwell's 5th period class. According to their website, they "are a quirky class that strives to encapsulate the best and most interesting parts of the year. We aim to take as many pictures of you and your friends as possible."
Yearbook isn't a typical lecture-heavy class: it's actually student-run. Editor-in-chief (EIC) Jieun Lim (12) and assistant EIC Wanning Lu (12) make announcements at the start of class, and then the rest of the period is for going out to take photos, interview, write copy, or work on yearbook pages, known as spreads.
"Keeping with how student publications are supposed to be run, I try to leave a vast majority of the content decisions with the editorial staff and with the students themselves," Yearbook advisor Mr. Stilwell stated.
Spread work is divided up into teams of three, including a copy, layout, and photo person. The copy member is responsible for interviews and text, the layout person arranges the spread elements, and the photo person attends events and takes photos.
"I don't tend to have structures, but I like to write the hook first because then I get the vibe that I'm going to go over with my copy," said Swasti Hiremani (10), the copy writer for her team. "Then I start piecing together what I have my quotes and then work from there."
Students work together on spreads throughout the year. They send completed spreads to their publisher Herff Jones, and the yearbook is ready to print by spring.
"Watching [the students] grow and come out of their shell [to] become the force that they are is always rewarding," Mr. Stilwell said. "It's happened several times."
Lim, who has been in yearbook for 4 years, experienced this growth. "I actually had a really strong sense of stage fright before coming into yearbook," she explained. "But after being required to interview people on a regular basis, [I had] to overcome that. When I stood in front of everyone giving [an] announcement […] that's the moment I remember most because that's when I felt I could do this."
A key aspect of Yearbook is its close-knit community. They hold bonding events over summer, have potlucks after deadlines, and set up holiday celebrations. Take a look at all the decorated lockers in the hallway: chances are, you've seen one decorated by a yearbook kid for their Christmas bonding. Because of these, and their teamwork on spreads, they form strong connections with each other.
"[In Yearbook] I feel like it doesn't matter what kind of persona I want to put on because everyone feels like a close friend. These shared experiences coalesce and help strengthen our bond," Hiremani said. "It feels like a second home."
If you would like to purchase a yearbook, you can do so here.
About the Contributor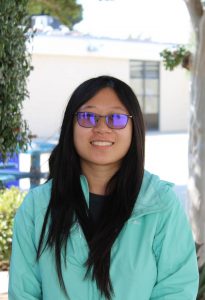 Nichelle Wong, Staff Writer
Nichelle Wong (12) is a staff writer for the Voice. This is her first year here, and she looks forward to expanding her repertoire outside of creative writing to include journalism. In her free time, she enjoys folding origami and planning imaginary conversations.