Musicians of Irvington: Alexander Lee
I started with music at age five. I do percussion, and I just really loved it because it was fun. At first, my mom really just wanted me to try out new instruments and see which I liked. And just over the years, I grew very good, and my passion for it just started increasing. It was unique. And it was just something that I really enjoyed, and it felt it was like very passionate to me.
This is technically my first year with the Irvington ensemble, because last year was virtual, so we didn't really get to play. But overall, I really like it. I believe Irvington is probably one of the better high school bands in the state. They're those lots of talented musicians. And it's really fun playing with other, you know, passionate musicians. My favorite part of band is being able to play in the ensemble. I find it really fun to play with other people that have the same passion as you. In the school band, everyone there loves their band, and they put effort, time and effort into practicing. I really appreciate that, and it really makes it feel like that we're more like a community or a family where we all spend time working on a piece and trying to make it sound as good as we can.
Auditions are normally kind of stressful. For All-State, I would normally spend, you know, around three months practicing and making sure that I am prepared around Thanksgiving break. We have to do many different auditions, such as, a marimba audition, a snare drum audition, and a timpani audition. And you also have auxiliary percussion, such as tambourine and crash cymbals.
Performing at All-State is really cool, because you get to meet with a bunch of people all across the state, who are some of the best musicians and it's really cool that you get to meet other people who also have the same passion as you. In February, when we have our concerts, it's a really cool experience, because you get to play in a theater and have hundreds of people watch you play. It's very unique.
I used to be part of U Music, where they would have teachers teach little kids music. And that was a very cool experience. I also work with a private tutor; my first one is Teacher Anne, and my second one is Galen Lemmon. I'm also in Lemmon's pre-percussion program, where we play different ensemble percussion ensemble pieces. We also compete in Junior Bach, and we do concerts in the Bay Area.
It's very tricky to practice with my instruments, because as percussionists there are thousands of instruments, and there's no way I can have thousands of instruments inside my house. So normally, at home, I have a marimba and a practice pad, and that's pretty much all you really need. There are some small instruments, such as the triangle, which I would have to temporarily either borrow from a teacher or borrow from Irvington. I normally spend around an hour a day just practicing percussion, and I practice music from school, my ensemble, and also my private lessons.
I think the biggest obstacle right now is definitely trying to make sure I can manage my time and make sure that what I'm practicing is actually helping, because sometimes it can be very demotivating to be practicing the same thing over and over again. It's also a struggle to make sure that I can stay motivated while I practice.
With percussion, it's mostly contemporary, there aren't really a lot of snare or mallet pieces that are very traditional. I do play some Baroque music like Bach, violin, and then Cello Suite, stuff like that. But mostly, it's contemporary pieces. Last year I did the Percussive Arts Society competition, and I played a piece called "Land." I forgot the author, but I really liked that piece because it was mellow and very expressive.
I think All-State 2019 and 2020 were my favorite moments where I got to play in a band where there are other musicians that were very talented, and they all have the same passion. It really did strike a memory because it's just such a unique experience.
About the Contributor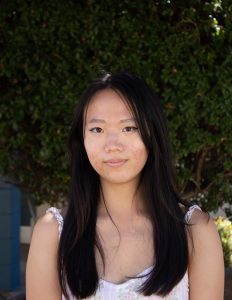 Ingrid Lu, Student Life Editor
Ingrid Lu (12) is very excited for her second year at
The Voice
! Besides reading and writing, she likes watching shojou anime, hanging out with her beautiful, perfect, elegant cat Farrah, and drinking hot cocoa.