National and Local Level COVID-19 Testing
The pandemic has been raging for almost two years now and shows almost no signs of stopping. Instead with the new omicron variant, cases are reaching an all time high. Although hospitalizations and deaths are less severe, the variant's ease of transmissibility and its effects on unvaccinated people have led the Biden administration to make COVID testing its priority.
COVID testing has expanded beyond the 2 day response times of the PCR test to 15 minute antigen tests. The rapid tests work by mixing the nasal sample with a solution that unleashes specific viral proteins. The mixture then is applied to a paper strip where if the virus is present, a visual indicator of infection will be present after about 15 minutes. The test does have a higher false negative rate than the PCR test which is in part due to the nature of the test along with the administrators of the test not being scientists. Nonetheless the test is largely accurate and the Biden administration and FUSD have put their full faith in the tests.
At the national level Biden has passed a policy to guarantee four tests per address. The Biden administration has purchased over 500 million rapid tests to distribute. This policy does not take into account the number of people per household, which some critics have brought to attention. Additionally there are problems with the website, and some users have reported that they were unable to order exams if people from the same apartment. A user on Twitter, however, suggested that respondents could work around this issue if they put their apartment number in the address block. There is still no official communication from the White House on this matter.
This initiative is a combined effort through the post office and the CDC. So far tests have been ordered from Abbott Laboratories, iHealth Lab and Roche. The tests are completely free and are available to all citizens. This comes in a time of great need as rapid tests are becoming more and more scarce. While some insurances provide rapid tests free of charge, most are filled with week-long backlogs and many Americans are left out of these coverage plans. Additionally supply chain shortages are driving the price up for all rapid tests, making purchasing tests unrealistic for working class Americans.
Apart from providing tests at the national level, the Biden administration has pledged to distribute 5 million rapid tests per month to K-12 schools.The tests are a larger part of a political agenda that depends on schools staying open to ensure a strong Democratic voter base for the midterm elections.
At the local level Fremont Unified School District (FUSD) is working with students and faculty to provide testing and two tests per student. The initiative, however, has not been without its problems. The tests, provided at the district office on Technology Drive, have been beset by shortages, accusations of line cutting, and deception. Many parents would falsely report the number of students in their custody to receive extra tests. FUSD was quick to rectify this however by requiring photo ID of each student in order to receive a test. Additionally, many parents would cut the massive line to ensure they would get a test before they ran out. Sources even say the Fremont Police were even called at one point to ensure that order.
Apart from providing rapid tests, Irvington offers free testing every Wednesday. Testing is available for all people, and most student athletes are required to test negative before playing.
About the Contributor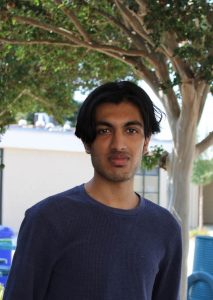 Vivek Garg, Sports Editor
Vivek Garg (12) is the sports editor for the Voice. He has always loved reading the news and is excited to contribute to the newspaper. He joined The Voice to learn more about journalism. In his free time, he loves watching old stand-up comedy, hanging out with friends, or watching sports.