U&Me Is Simple and Sweet
U&Me Tea, located at 6018 Stevenson Blvd within The Globe shopping center, offers unique, often seasonal drinks, occasionally adding new selections. Aside from boba and other specialty drinks, they also serve bento boxes, takoyaki, and other snacks. They use organic ingredients, and they have additional locations in Cupertino, Milpitas, and Palo Alto.
At the moment, U&Me doesn't offer dine-in services, and orders are taken at an electronic self-service checkout by the door. U&Me is notable for its branding and decor, and it seems to pay especial attention to photo opportunities, with a picture-ready mascot standing just past the pickup counter. Pink rabbit motifs both within the store and on cups and packaging make just stepping in a unique experience in and of itself.
I opted to try their standard brown sugar bubble tea with regular ice and 75% sweetness. With the addition of boba (an additional $0.50), this came out to $5.95, which is on the higher end for boba without any other toppings. I personally found the sweetness to be not quite enough, so I would recommend going for 100% sweetness if you typically prefer more sugar. The tea was neutral and the bitterness wasn't overpowering, which worked well in tandem with the brown sugar syrup. The ratio of topping to tea was also very well-balanced, so the drink was very consistent throughout. In my opinion, the boba was a little bit chewier than standard, which I tend to prefer.
I also tried a taro latte with coconut pudding with regular ice and 75% sugar, and while they offered both hot and cold drinks, I chose for it to be served cold. Without toppings, this latte costs $5.55, but do note that the addition of taro as a topping costs another $0.80. The ratio in this drink was balanced as well, even though it had more complex toppings and flavors. The pudding was slightly flavored and not too overwhelming, and the texture gave the drink a more unique quality. The taro crumbled nicely and dispersed evenly throughout the drink, adding another layer of complexity.
Lastly, I tried the osmanthus oolong milk tea with regular ice, which was $5.95 and didn't include boba. This drink was initially much more bitter and slightly more robust than the brown sugar boba, but the standard drink comes with a layer of cream topping, which I found evened out the flavor somewhat. This tea was also neutral but balanced, and it also had small but discernible pieces of osmanthus leaf, which added an occasional burst of flavor.
I did enjoy my experience at U&Me Tea, and while I thought some of the drinks were a little overpriced, the more distinctive combinations, like the taro latte, were worth trying. If you're curious about their drinks, the pastel branding, or just in the area, I would recommend visiting and checking out the seasonal items that they currently highlight on the main page of their self-service kiosk.
Rating: 4/5
About the Contributor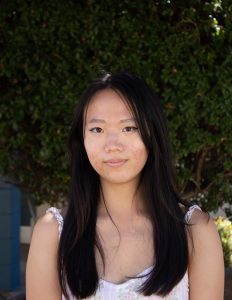 Ingrid Lu, Student Life Editor
Ingrid Lu (12) is very excited for her second year at
The Voice
! Besides reading and writing, she likes watching shojou anime, hanging out with her beautiful, perfect, elegant cat Farrah, and drinking hot cocoa.