Five, Six, Seven, Eight: Inside Irvington's Dance Electives
Footsteps shuffle across the wooden floor in sync, booming music echoes across the whole practice room. An audio recording rewinds and music spills around the area.
That is the sound of Dance, one of Irvington's performing art electives. The school offers two dance pathways–one for beginners (Dance 1) and one for more advanced dancers (Dance 2). Taught by Mrs. Dotzeva, each period consists of both advanced and beginning dancers, fostering a collaborative environment regardless of skill differences in the class.
A typical Dance period starts with warm-ups led by advanced dancers. Next, Mrs. Dotzeva leads a class dance either through video or in-person. Afterwards, students break out into small groups to choreograph and practice dances. Sometimes, students use Chromebooks to research genres online or create slideshow presentations.
Every year, Mrs. Dotzeva starts the class by teaching students the basic elements of dance.
"[We learn] moving in space, shapes, range of motion…also the way you express yourself through movements, and rhythm," said Mrs. Dotzeva. "Students need to first be able to dance to the music." By learning these elements, students strengthen their dance foundations, which they need in order to express different styles and emotions later on.
Students learn vocabulary, dance's cultural significance, and its intersection with history, making the class an enriching experience. Apart from these things, students also learn styles like hip-hop, jazz, classical ballet, and multicultural dances like Latin and Bollywood.
"Right now we're doing ballet, and it's my least favorite. So we tried a few jumps…I was trying to make a step but then I fell in a puddle," said Dance 1 student Joshitha Puli (9).
Despite not enjoying ballet, Puli still appreciates the various dances learned in the class. A personal favorite for the class is hip-hop, especially for those interested in a trendy dance style.
"I think [hip-hop] is the most versatile: you learn basic steps, cultural significance to hip-hop, different music like rap hip-hop, or slow hip-hop," said Aria Blackman (10), a student in Dance 2. Students get comfortable choreographing during the hip-hop unit by personalizing their routines to the subgenres they enjoy.
The year isn't without its challenges: adapting to COVID-19 has been difficult in-person.
"Before, a lot of people were able to go to locker rooms to change if they're wearing different clothes," stated Blackman. "I think with the masks and social distance it's hard to do more group dancing and you get tired easily."
Still, the experience is better than a year online. During distance learning, students could only dance in their own homes and not the spacious dance studio. Connectivity issues made communication and synchronization exponentially harder. Furthermore, camera orientation made instructing and choreographing confusing.
Even in these trying times, students still have fun and enjoy Dance.
"[Dance] is just really easy and fun, and the teacher–Mrs. Dotzeva–I really like her, she's just such a nice teacher," said Blackman.
"Honestly, if you want to try [Dance], go for it. You won't regret it," said Puli. "Even if it's hard, you'll get used to it because the students and Mrs. Dotzeva will help."
Dance fosters a warm community, embracing new experiences and learning over the year.
"I really want [students] to feel the enjoyment and the benefits of dancing… I want them to know a little bit of this and that," said Mrs. Dotzeva, "So that one day when they become adults, dance not only becomes a conversation but also a way to relieve stress."
The Dance Studio is located in Room 125 in the courtyard. Register for Dance during course registrations in spring.
About the Contributor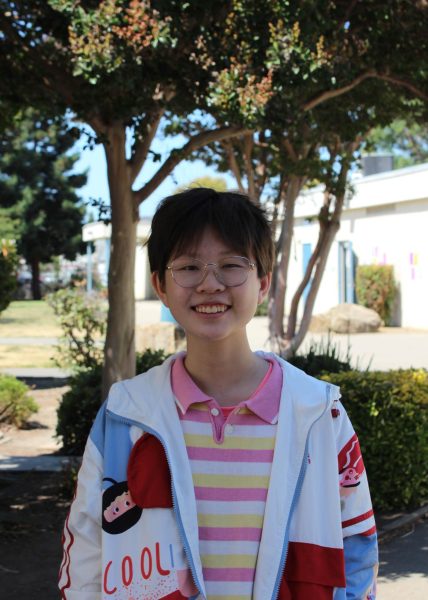 Crystal Chen, Features/Graphics Editor
Crystal Chen (12) looks forward to spending her third year at The Voice designing colorful features layout with Megan. In her free time, she loves to play Identity V and Genshin Impact with her friends. She also likes to draw digitally, but loses her Apple Pencil so often that it becomes quite a hassle sometimes. Her favorite musicians right now are Takayan and Tuyu.