Irvington Early College Acceptance: Leo Rao
I did early decision because Rice was clearly my first choice for a lot of reasons, mostly because of the residential college system. It's pretty unique, not completely unique to Rice, but Rice is one of the few colleges that have it. Students are split randomly into 11 different subsections in the school. I think that creates a really nice environment because it gets rid of the social pressure of frats and sororities and replaces it with a much more natural kind of group of friends that over your four years you live with and do everything with. And that's the kind of social environment I really wanted for my college life.
Rice is a very high-ranked school. So it's got a great science and medical program, which is what I'm interested in, and I think 75% of all natural sciences students get research done within their undergraduate years. It's also right next to the Texas Medical Center, which is, I believe, the biggest medical center in the world. So it's very well positioned for pre med and research. I'm majoring in neuroscience.
I started the application process in August with just the UC essays because I knew I was gonna apply either way. I didn't learn about Rice until a couple months after that, when I was making my list of private universities to apply to. At first, I thought it wasn't really my thing because it's pretty small with only 4000 undergrads. And it's also in Texas, which is far from home. But I liked it the more I read about it, and the more I read about its social environment and its academic opportunities. Every online forum I could find had nothing but good things to say about it. How they always felt really happy there, how they felt the professors always cared about them, and wanted to teach them and get to know them. I just found myself falling more and more in love. And when I came time to make a decision for the early schools I wanted to apply to I decided, if I get into Rice, that would always be my number one choice.
In my essays, I went really in depth into why, specifically, I liked Rice over any other school. I also did the optional interview. And in the interview, I talked more about why I liked Rice and its residential college system so much.
I was not optimistic about getting in. I didn't want to kill myself over worrying about something that had such a low chance of happening. So I put my application in and try to forget about it. But I think my stats and extracurriculars were on par with what they usually accept. I found out in AP Physics, Mr. Lee's class. I pulled it up on my phone, opened it up, yelled pretty loud.
I'm excited to explore Houston because I've lived in Fremont for I think the last 10 or so years, so I don't really remember living life anywhere outside of here. Obviously, the Bay Area is a very sheltered kind of bubble. It's very different from the rest of the US or the rest of the world. I am a bit scared to be in such a different place, but I'm sure it'll go well. I'm just excited to get a new environment and check out the big city.
About the Contributor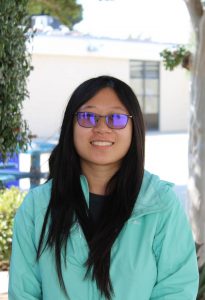 Nichelle Wong, Staff Writer
Nichelle Wong (12) is a staff writer for the Voice. This is her first year here, and she looks forward to expanding her repertoire outside of creative writing to include journalism. In her free time, she enjoys folding origami and planning imaginary conversations.