Scarlett Johansson to Play Literally Every Single Person and Object in Upcoming Film
Scarlett Johansson has been receiving a lot of attention for, like, most of her life. Most recently, she received a double Oscar nomination for her roles in Jojo Rabbit and Marriage Story, movies that received much critical acclaim over the past awards season. Unfortunately, she didn't take home the gold in any of the categories for which she was nominated. Her next venture in the film industry, however, is sure to earn her at least one trophy, on the grounds of sheer probability alone.
Johansson has stated in the past that she would enjoy the opportunity to play more diverse characters in films, since the options that are available to her are clearly very limited and restricting. "I'm only allowed to play white women, apparently," Johansson seethed in a private interview, "as an actor, I should be able to take any role I want. Even if that means shutting out an entire group of people from getting a shot in Hollywood." Johansson elaborated that, though 94.3% of films starred caucasian actors, she felt that the scope of potential roles was still too low to fully challenge her. She will finally get to display her full range of acting abilities in the upcoming 2020 movie, Any Person, Any Tree, and Any Animal. As the title suggests, Johansson is set to play every living thing and inanimate object that appears on screen. The movie is set to be released in the late 2030s, because it takes about three months to execute the costume, makeup, and filming of one singular scene. Like most actresses who have been part of Hollywood from a young age Johansson has become incapable of aging through a combination of proprietary glycolic placenta oil facial toner and satanic worship. She's basically a statue now. Scarlett Johansson and her fiance are the main contributors to the film, and they believe that it will be well worth the effort. However, she has been married twice so far, so her fiance's opinion is subject to change.
Though the plotline of the film is still under -wraps, some details have emerged. Rumors indicate that the two main characters, Karen and Sharon, will navigate through the oppression that most middle- aged white women face. These issues have been inspired by Johansson's struggles with being a middle- aged white woman and include: decision anxiety, not being able to find parking at Trader Joe's, reverse racism, coping with being called a boomer, and bad haircuts. One particularly poignant scene that has already found its way into the hands of prestigious Hollywood critics such as myself depict Karen consoling Sharon after Sharon realizes that her spin class and yoga sessions schedules overlap, and she will be forced to choose one. Scarlett is the picture of an ideal best friend as the patient Karen and gives a gut-wrenching performance as the torn Sharon. She captures the disarray of modern life as the pile of unfolded clothes on the sofa. She shows us how fast she can twirl as the clothes dryer in the background. Scarlett demonstrates how few shits she gives about the environment as she plays the hundreds of sprinklers throughout the movie.
"I'm really excited about this movie," says Johansson, "because it's a really new idea, and it's never been done before." Johansson began acting over a decade ago, but this is one of her most challenging pursuits yet. For hours, she must stand straight, as "Tree one" or hop around as "Crow one". The reason she wants to do it? "I'm mainly doing this for feminism," says Johansson. "I'm a huge feminist because it's popular now, so I bring that up whenever I can so that I stay relevant."
As a prestigious film critic, it's difficult to predict what the outcome of this movie will be. On the one hand, CGI is extremely common and has been used in hundreds of movies, such as Cats. On the same hand, Cats sucked. While the reaction to this movie may still be a question that we anticipate finding the answer to, this film critic is sure that the road to production of Any Tree will be incredibly interesting. We hope you enjoyed this video. Like and subscribe to stay updated on the latest news about Hollywood.
About the Contributor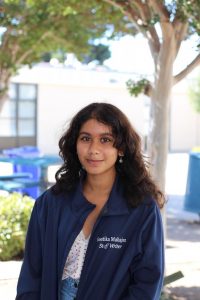 Geetika Mahajan, Humor Editor & Editor in Chief
Geetika (12) is this year's humor editor and editor-in-chief. Her hobbies include baking cakes at one AM and befriending stray cats. In her free time, she can be found scrolling through Zillow and apartments.com, getting emotionally attached to studios & lofts in New York City.