Irvington Wrestling Takes Third Place at MVALs
On Saturday, February 12, IHS wrestling competed at their annual MVALs competition at American High School. The team placed 3rd overall with a total of 101.0 points, championing across both the girls and boys divisions.
Seven schools competed at the tournament including, James Logan High School, which placed first, and John F Kennedy High School, which placed second by a mere two points ahead of Irvington. Champions included Aatiyanth Thimma Udayakumar (11), Alex Kwok (12), and Harshana Jawahar (11). Shane Takara (9), Andrew Kwok (10), and Allison Takara (11) placed second in their respective categories as well.
Throughout the day, there was an atmosphere of excitement. With several matches occurring simultaneously, there was no dull moment. Spectators eagerly cheered for wrestlers on the mat. Even though each match was won individually, any win became a win for the school, and team spirit was prominent.
Powerful preliminary rounds kicked off the tournament. Bernard Gardiner (12) began his electric first fight against an opponent from Washington High School. Despite his opponent being taller, Gardiner went into the match confident, ensuring there would be fewer resets within the match as he constantly pulled his opponent away from out-of-bound areas. Taking shot after shot, he maintained a confident disposition coming into the match. Still, his opponent was especially skilled at defense techniques—at one point in the match, when Gardiner tried a mat return, he missed and was close to being pinned down, potentially losing the match. Ultimately, with his persistent escape techniques, Gardiner gained the upper hand and secured his victory with a half nelson pin, turning his opponent towards the mat as he put weight on his opponent's shoulders.
As finals drew closer, the audience encouraged the athletes further, roaring up until their final moment.
Jawahar had an especially tough final match. Equally matched in strength, Jawahar and her opponent from Mission San Jose struggled to pin one another. After dominating and getting on top of her opponent, she had to ensure that her opponent would not escape. Maintaining spirit was key to Jawahar's win in her weight category.
The tournament was a learning experience for everyone. Many wrestlers thought that starting the round with more offensive tactics could be beneficial in the future. Much of the match depends on the wrestler's mindset entering the match, so being able to make the first move enables the wrestler to set the pace and level of aggression necessary for the match.
Having returned to wrestling after a year without the sport, the team's performance during MVALs was impressive. They were unable to have pre-season conditioning while looking for a coach for the season. Despite being behind at first and smaller than many other teams around the Bay Area, the group remained committed to working on mistakes and practicing as much as they could every day.
"We've had the privilege of welcoming back some Irvington alumni and current collegiate wrestlers help coach the team this season," stated Coach Goulet. "Everyone brought their own style, and strengths to the table, and ultimately, I think the team really benefited from the diversity."
After long practices mastering technique in the week prior to the tournament, wrestlers held situation-based training, where they practiced going through three periods (for a total of six minutes) as if it were an actual match.
"On Friday, we decided to keep things light, do a little bit of drilling but played dodgeball for a significant amount of practice," said Coach Goulet. "I really think it had a positive effect on everyone's head game going into Saturday's tournament. I think everyone appreciated it at the end of the day; if we're not having fun together, then what's the point?"
As the tournament headed to a close, the team remained stronger together than ever before. This being their last tournament of the season, excluding those who qualified to NCS the week after, reflecting the team's hard work throughout, no matter the countless obstacles they had faced along the way.
"Whether it was my teammate or opponent, I could tell that everyone was giving it their all and putting everything on the mat," stated Gardiner. "It reminded me how hard I worked this season, and I'm really going to miss wrestling."
About the Contributor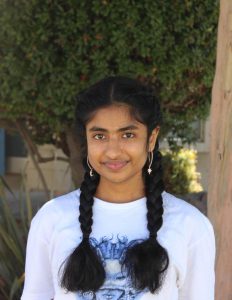 Sadhana Chari, Editor in Chief/Student Life Editor
Sadhana (12) is excited to be back for her third year at the Voice. She loves traveling, reading, and baking really badly. If you can't find her doing any of those things, she's probably aggressively playing 2048 - 3d version to replace her solitaire and cut the rope addictions.