Masks No Longer Mandated in FUSD Schools
On Wednesday, March 9, 2022, the FUSD Board of Education voted in a 4-1 vote to remove the mask mandate from all public schools in the FUSD. The dissenting vote was provided by Trustee Diane Jones. While the Board "strongly recommends" masking, it is no longer mandatory, and staff and students alike are able to choose whether or not they wish to utilize a facial covering. Additionally, site-specific COVID plans are no longer required.
This move comes as the pandemic has reached the two-year mark. March 13, 2020, marked the last in-person school day for the 2019-20 school year. The 20-21 school year was completely virtual due to concerns about the spread of the virus. With this year being fully in person, masks have been mandated until now. Even with the Omicron variant spiking in December and January, schools continued to operate in the FUSD. With cases on the decline once again, the California State Government has made masking in indoor settings optional, with exceptions such as in emergency shelters, healthcare settings, and public transit areas.
"I have not gotten sick in three years," AP Government and Honors Economics teacher Mrs. Fields says that she will still choose to wear a mask in her classroom. She plans to continue using N95 masks instead of cloth masks to provide greater protection. Mrs. Fields agrees that masks will transition off and that these changes are bound to happen. She says that staff were given the same notice as students regarding masks mandates and "it sort of just happened over the weekend."
About the Writer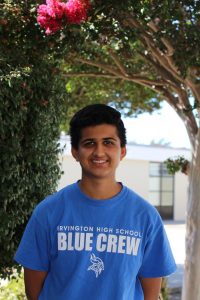 Tanmay Lakhotia, Humans Editor
Tanmay (12) is excited to be the Humans editor in his second year at the Voice. He joined for the jackets but reluctantly stayed on for the parties. In his free time, he enjoys photography and martial arts. Belgium milk chocolate is his kryptonite.