Irvington Debate Succeeds at State Qualifiers Tournament
On March 5th, Irvington Debate competed in the State Qualifiers Tournament conducted by Golden Gate Speech Association (GGSA), where debaters from schools across California attended in order to qualify for the state tournament. Approximately twenty debaters from Irvington competed at the tournament across both the Parliamentary and the Lincoln-Douglas debate formats. Parliamentary teams Ansh Kharbanda (11) and Selina Song (11), along with Sashv Dave (11) and Aadhav Rajesh (11) advanced to the state tournament.
"Simply put, our top teams dominated – Sashv and Aadhav went undefeated in each of their rounds," said Aaryan Shah (12), President of Irvington Debate. "They've been winning tournaments year-round, from the Stanford Invitational to CSU Long Beach earlier this year.
Irvington Debate has been a powerhouse in the Parliamentary debate division for multiple years now, holding the number one spot in the nation the last year. This is often credited to their student-run organization and top-notch preparation for competitions, along with the drive from the students to compete.
"I wanted to attend this tournament because I felt it was a great way to wrap up the competitive season," said Sashv Dave (11), one of the Irvington Debate state qualifiers. "My partner and I made it to the final round last year as well and didn't qualify as a result of one ballot. Going to qualifiers this year felt like a cool opportunity for us to tangibly say we achieved something this season that we hadn't the last."
In order to prepare for the tournament, Irvington Debate focused on doing practice debates, where two teams would debate against each other in order to simulate competition-like conditions. For State Quals specifically, Irvington Debate decided to use three judges for their practice debates, instead of their previous norm of one judge. This small adjustment, many debaters from Irvington to succeed at the tournament.
"Online [debating] and COVID-19 have definitely led to Zoom fatigue," said Shah. "While we're able to compete at more tournaments, some of our debaters are exhausted from debating an entire day on Zoom or virtual platforms. I know all of our debaters are excited for the bonding opportunities for lunch and dinner, late-night rides back home from Stanford and UC Berkeley, and so much more."
This hasn't stopped Irvington Debate from continually putting in their best efforts in each and every tournament that they enter.
"Over the course of the year, we've had north of 20+ tournaments," said Shah. "We've competed across the nation so far, from Yale to UC Berkeley tournaments."
With about 5 to 7 more tournaments in store for this school year, Irvington Debate continues to prepare their members for their future competitions such as the State Tournament and the Tournament of Champions.
About the Contributor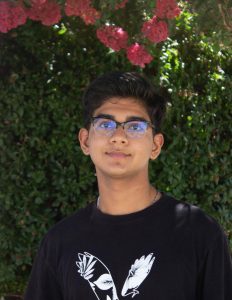 Suyash Lakhmani, Editor in Chief/News Editor
Suyash Lakhmani (12) is excited to be Editor-in-Chief for
The Voice
. He enjoys reading, watching unhealthy amounts of Youtube, and lifting. You can find him at Blaze Pizza or at Chipotle on the weekends.