A Forte in Music: Irvington FCSN Neurodiversity Club Hosts Inclusive Virtual Concert
On Monday, March 14 at 4:30 p.m., Irvington's Friends of Children with Special Needs (FCSN) Neurodiversity Club hosted its second inclusive Zoom concert to encourage neurodiverse performers. Dream Achievers, an award-winning band of musicians with autism who know over 400 songs, played at this event. Other performers included Irvington students and members of FCSN from other schools. Around 23 people were in attendance. They clapped or used virtual emojis to show their support for each performer.
Martin Ngyuen (10) played "Merry Go Round of Life," a song from "Howl's Moving Castle," on clarinet. FCSN student musicians included Darren Ko and Ansel Kam, who played "Canon in D" on piano and "Vivaldi in A Minor" on violin, respectively.
Dream Achievers, composed of Lawrence Wang (vocals), Gregory Herbert (vocals and guitar), and Alice Jen (keyboard), performed 3 songs: "Whale of a Tale," "Despacito," and "We Are the Champions." The high-spirited songs were energizing and well-received by the audience.
Additional student performers included Jonathan Wilson (9), who performed a piano song from "Spirited Away," and Jason Kim (10), who played "Save Your Tears" on guitar. Michelle Chan (10) sang a cover of "Rubia" by Zhou Shen from the game Honkai Impact 3rd by miHoYo. Isabelle Hsu (11) concluded with a piano performance of "Étude Op. 25, No. 1," also known as "The Shepherd Boy."
Though there were a few minor audio and technical issues, the musicians' talent shone through. Many of the songs were famous classical pieces or songs adapted from popular culture. They were all delightful to hear.
The event was organized by Hsu, Neurodiversity Club president, and the FCSN nonprofit, which aims to support families of children with special needs. Anna Wang, Vice President of Local Programs and Community Relations, displayed recorded videos from performers who were unable to attend. She also shared the recordings of the Dream Achievers' pieces.
"It's good to open the world of music to people who are neurodiverse because previously, we had [the] idea that this isn't normal," said Chan. "But I think times are changing and we should open music, performing arts, and visual arts to everybody."
Neurodiversity is the idea that neurodivergent conditions, such as autism, ADHD, and dyslexia, are normal and natural; people should learn to accommodate these individuals' special needs to allow them to demonstrate their strengths and make contributions to the community. The main goal of this concert was to reduce stigma around these conditions. This concert included many performers, including but not limited to those who are neurodiverse.
"Studies have shown that many neurodiverse people are talented in certain areas such as math, music, and memory," Hsu stated, "but because of their conditions, many of them rarely get a chance to demonstrate their talented sides."
Neurodiverse individuals can also be overwhelmed by stimuli, so Zoom is an effective platform for them to communicate. They can turn the volume down or mute if they feel uncomfortable.
In order to help neurodiverse students in Irvington, Hsu suggested educating oneself on their unique needs. Some examples include making presentations with dyslexia-friendly fonts and creating a quiet space for these students. Also, using terms such as "neurotypical" to describe people without neurodiverse conditions can help to reduce the stigma around the neurodiverse community.
"We hope our club's effort will not just raise awareness but will create a culture shift at Irvington that makes our classrooms, our hallways, and our student activities all become more inclusive of this unique group of students," Hsu expressed.
About the Contributor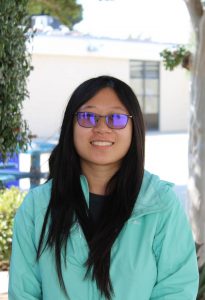 Nichelle Wong, Staff Writer
Nichelle Wong (12) is a staff writer for the Voice. This is her first year here, and she looks forward to expanding her repertoire outside of creative writing to include journalism. In her free time, she enjoys folding origami and planning imaginary conversations.