Game Clubs: Chess
Note: The following transcript was taken from an interview with Rithwik Narendra, Co-President of IHS Chess club.
"Chess club allows members to relax and take their minds off of other stressors at school. It's unique from a lot of other types of STEM and service-focused clubs because most of our members come here to bond and play. You don't have to be good at chess to join our club: we're really inclusive and have members of all skill levels come to play during our weekly meetings on Thursdays during lunch in Mr. Choi's room
There is still a competitive aspect to our club though. We participate in tournaments throughout the year. In fact, we're going to be participating in a Bughouse tournament towards the end of April/early May, where participants will be playing chess with two boards. Players actually play in teams and that just creates a more exciting atmosphere. Tournaments are very open and welcoming because you can be paired against people with similar skill sets, so most of our members don't have to be worried about having little to no experience.
In fact, to build the skillsets of our members, we usually have lecture series meetings too. We teach players new techniques and strategies to become better chess players and compete in higher-level tournaments. Learning together allows us to bond more and meet other people who have similar passions. Joining the club is a great way to make new friends while learning.
Personally, I've been playing chess since I was three and competitively since I was five. In Weibel and Horner, the chess clubs were pretty good there and I've made a lot of new friends along with the game. It has allowed me to connect with others and I've been doing it for a long time now.
For anyone who wants to try something new, chess club is a great place to start. The game challenges members to think differently, which they can apply in their own lives."
About the Contributor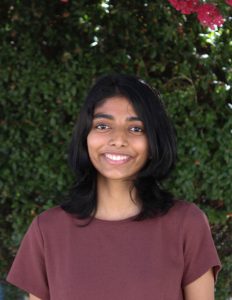 Ananya Anand, Humans of Irvington High Editor
Ananya (12) is excited to be a Humans editor at the Irvington Voice this year! She joined the Voice to highlight Irvington's beautiful, eccentric, and diverse community. In her free time, Ananya enjoys binging ATLA, writing poetry, and hanging out with her friends. Her IG is @ananya_anand05