FUDTA and FUSD Move Closer to Salary Agreement on April 25 Meeting
On Monday, April 25, 2022, the Fremont Unified District Teachers Association (FUDTA) and the Fremont Unified School District (FUSD) returned to the negotiation table regarding salary increases. The meeting sees FUDTA decreasing their first-year one-time contingent salary offer by 0.25%, and FUSD increasing their first-year one-time contingent salary offer by 0.25%.
FUDTA's new offers on April 25 consist of a 0.50% plus $2,500 in first-year one-time payment; the district has yet to change their April 11 counter of a 3.25% and 1.25% one-time contingent payments for fiscal years 2021-2022 and 2023-2024 respectively.
However, both parties did not change proposals in these ongoing salary payments: FUDTA repeats their 2/14 offers of respective 6.07%, 5.33%, and 3.61% salary increases in accordance with COLA funding, whereas the district also repeats previous offers of 3% for the first year, then 1.75% less than COLA for years 2022-2023 and 2023-2024.
COLA refers to California's Cost of Living Adjustment funding, where the state adjusts for inflation by allocating the budget toward districts. Typically, districts would automatically add state-allocated COLA funding to teachers' salaries, but that has yet to be the case for FUSD educators. As EdData ranks the Fremont Unified School District as the 5th most expensive (With the fifth-highest COL Cost of Living Index of 227.3), many Fremont educators have urged FUSD to increase their salaries by COLA. As a result, we see developments like FUDTA members rallying in support of negotiations.
Since FUDTA's rally outside FUSD headquarters on March 23, the two parties have met three times (on March 25, 29, and April 11) to negotiate increases in educators' salaries; the first two meetings resulted in no change from the parties' February 14 offers.
This meeting is the latest development in FUDTA's ongoing demands for FUSD to increase educators' salaries according to COLA. "We continue to believe that FUSD is capable of providing a more competitive salary to keep educators in Fremont and attract new educators to fill positions that have been vacant all year," said Brainnin Dorsey, FUDTA Educators Union President.

"While we appreciate it when FUSD says they want to offer us a meaningful raise and that they wish they could pay teachers what they really deserve…that isn't enough," Dorsey continues. "Praise only goes so far. We don't need praise, we need a raise."
We at the Irvington Voice will continue to publish articles covering further negotiations and other significant events between FUSD and FUDTA.
About the Contributor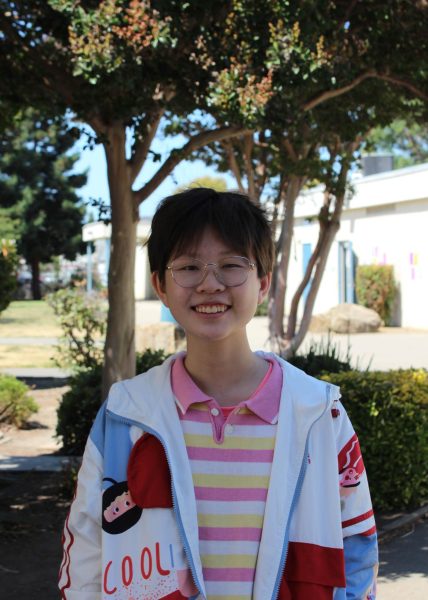 Crystal Chen, Features/Graphics Editor
Crystal Chen (12) looks forward to spending her third year at The Voice designing colorful features layout with Megan. In her free time, she loves to play Identity V and Genshin Impact with her friends. She also likes to draw digitally, but loses her Apple Pencil so often that it becomes quite a hassle sometimes. Her favorite musicians right now are Takayan and Tuyu.