The 2022 Oscars-A Night to Remember
The 2022 Oscars was…eventful, to say the least. While most of the viewers of the event will remember it solely for the extraordinary occurrence between Will Smith and Chris Rock, some may have forgotten that there were actual award picks too. But don't worry, we'll be covering the Chris Rock-Will Smith slap routine, but let's take a look at the picks made in the 2022 Oscars.
Best Picture-CODA
This heartwarming tale of growing up in a deaf household does not fall on deaf ears. CODA was a heartwarming story of Ruby Rossi, a girl whose parents are both deaf. Rossi joins the choir, and discovers she has a talent for singing, yet her parents will never be able to hear her voice. It was a wonderful movie to watch, (Highly recommend it!) and therefore, I think it should have won the best picture award, which it did. However, Belfast gave it a run for its money, though I don't see anything wrong with this pick.
Rating of the Pick:5/5.
Best Actor-Will Smith
This had to be scripted, right? Just moments after slapping Chris Rock, Will Smith accepted his award for best actor in the movie King Richard, where he played the father of Venus and Serena Williams. Ignoring the slap, he was a very good actor in the movie, playing the father of two of the greatest tennis players in the world to absolute perfection. But this year, it should have been Benedict Cumberbatch. The Power of the Dog blew many away, and Cumberbatch delivered a raw performance within it. Still, I can't be too mad with this pick.
Rating of the Pick:2.5/5
Best Actress-Jessica Chastain
Jessica Chastain had the role of a lifetime in The Eyes of Tammy Faye. Playing the namesake of the movie, Chastain had a wonderful performance in the lead role. She played Tammy very well, portraying her highs and lows in outstanding fashion. You could argue for Nicole Kidman or Kristen Stewart for the award, but there isn't major controversy there. Chastain portrayed Faye to perfection, making the audience genuinely invested in her deep lows and massive highs, something that Kidman and Stewart couldn't do in Being the Ricardos and Spencer, respectively.

Rating of the Pick:4 / 5.
Best Animated Feature-Encanto
I wasn't too hot on Encanto at the beginning of its reign on the global box office. However, I soon realized that was a mistake. Encanto is a surprisingly heartwarming movie, hiding all sorts of messages inside its Disney persona. It conveys the power of family, of strength all while delivering a supposed kid flick. There's no doubt the Oscars voters saw this too, and this is why I agree with the pick.
Rating of the Pick: 5/5.
Controversies(The Slap)
It all started when Chris Rock made a G.I. Jane joke. Will Smith's wife, Jada Pinkett Smith, suffers from alopecia, a condition resulting in the loss of hair. Rock gently teased the fact, and Smith even laughed-until he got a view of the death glare from Jada. That was it. His manhood had been put in question, and he got up there and slapped the living daylights out of Chris Rock. The slap was graceful, the arm was fully extended, Chris Rock's face had been thoroughly hurt. Yet his bounceback was quite spectacular. He continued on, professionally, while Will Smith is facing repercussions for his actions.
Rating for the slap:
Chris Rock:5/5
Will Smith:1/ 5(It really was a beautiful slap)

Overall, the Oscars had surprisingly good picks this year. There was room for improvement, especially in the security personnel area, but there wasn't much to be disagreeable about.
Rating of the Oscars: 3.5/5
About the Contributor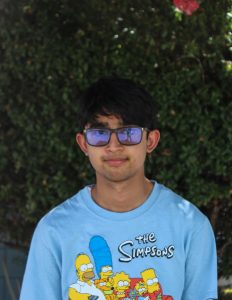 Ojas Vatsyayan, Sports Editor
Ojas Vatsyayan(11) is a second-year staff member of the Voice, this time as Sports Editor. He loves reading, listening to music, and playing tennis. If he's not doing those things, you'll probably find him outside doing something or the other. He wants to learn how to drive, but his mom won't let him. Oh, well.