"Bridgerton" Season 2 Surpasses Expectations
Dearest Gentle Reader:
The entertainment section of the IHS Voice is certainly no stranger to bad movies, TV shows, books, or video games. One must simply look to last month's issue to observe our own penchant for picking apart seemingly passable, even good pieces of media, and ripping the truly awful ones to shreds. It may seem vexing, then, that this review contains little of the aforementioned picking-apart or ripping-to-shreds, but the truth is simply this: this author found Bridgerton's second season more riveting than a Mama finds her stitchwork.
"Bridgerton" was released as a television programme during the height of the pandemic, in December 2020; the timing of its release was most favourable, as viewers at home and in quarantine certainly desired such an escape from the relentless dumpster fire that was 2020. Perhaps, then, some of the show's popularity can be attributed to these circumstances. But if the sophomore season of this show's success is any indication, "Bridgerton" is more than capable of living up to expectations set; capable, even, of surpassing them.
Once again, the audience finds themselves transported to the upper-echelon of 1800s British society, to the world of scandals and solicitations, gorgeous set design and playful soundtrack. The base elements of season one and season two remain the same, delivering what viewers of "Bridgerton" most appreciate: a love story and a scandal. In keeping with the source text, each season of the television show follows the story of one of the Bridgerton siblings. This season's subject is the first-born, and to-be viscount, Anthony Bridgerton (Jonathan Bailey). Much of the supporting characters remain the same, with the few new additions being this season's love interests, sisters Kathani "Kate" Sheffield-Sharma (Simone Ashley) and Edwina Sheffield-Sharma (Charithra Chandran). The plot is fascinating, owing to the season-long will-they-won't-they conflict between Kate and Anthony, and it was much more interesting than watching Daphne Bridgerton learn how babies are made in season one. However, it does get frustrating to watch Anthony and Kate make one idiotic decision after the other, continuously citing "family duty" as the reason behind each one. Whatever critical thinking skills Mr. Bridgerton possessed must have been stored in the sideburns he shaved off prior to the start of this season.
And speaking of those sideburns, one cannot help but notice that many stylistic liberties were taken in season two, a departure from the strict adherence to the fashions of the 1800s in the first season. Perhaps making all the other characters appear more attractive was supposed to make up for the fact that the Duke of Hastings (aka actor Regé-Jean Page aka The Fairest Of Them All) did not return this season. While this change may not seem "historically accurate," Daphne switching from baby bangs to the more modern curtain bangs and Penelope finally shedding her stupid pin curls solidified one thing: "Bridgerton" has become an aesthetic of its own. In fact, it's become a unique, separate genre, unlike other TV shows and all the better for it: not quite a subdued Jane Austen adaptation, and not a cable regency romance either. If each season of "Bridgerton" surpasses the former in the same way that season 2 did season 1, the show might shape up to be a diamond of the first water on its own. This author, for one, cannot wait to find out.
(Also, if the showrunners truly cared about historical accuracy in the slightest, all of the Bridgerton brothers would have syphilis by now).
About the Contributor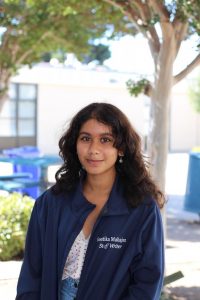 Geetika Mahajan, Humor Editor & Editor in Chief
Geetika (12) is this year's humor editor and editor-in-chief. Her hobbies include baking cakes at one AM and befriending stray cats. In her free time, she can be found scrolling through Zillow and apartments.com, getting emotionally attached to studios & lofts in New York City.