IHS Swim Exceeds Expectations in Last Home Meet
On Friday, April ninth, the Irvington High School Vikings swim team had their last home meet against Washington High School The Varsity boys swim team emerged triumphant in the meet, winning by a margin of five points at 86-81. However, overall the IHS team lost by a very tight margin. The team's strong sense of community was apparent throughout the meet, as they rallied together and cheered for their peers.
"I think there was this sense of the season ending," remarks senior Urvi Chaubal about the atmosphere of the meet, "So it was kind of sad."
Additionally, due to scheduling conflicts, the team's last home meet was not senior night, which Chaubal said was also upsetting to many of the seniors on the team. Customarily, senior night is on IHS campus so friends and family can come to support the senior members of the team.
Regardless, both the girls and boys teams competed aggressively, resulting in a victory for the boys team and a close loss for the girls team. The meet opened with the junior varsity events, in which the girls team also defeated Washington 85-56. Then, it moved on to the varsity events. Swimmers Angela Kwan, Ryan Dong, and Ivan Lam stood apart for their outstanding efforts throughout the meet, continuously demonstrating their talent in the pool. One particular event in which both the varsity girls and boys teams excelled was the 200 medley; both teams placed first for this event.
"We have a lot of good distance swimmers," said captain Ashley Able (12), "so we tend to do better in those events." Still, some events do require more physical endurance than others, which can take a toll on the swimmers. At Friday's meet, there was an instance in which a swimmer had to be pulled out of the pool due to cramps that made it difficult to complete the event. (The swimmer has since then recovered and is doing fine)
Despite the challenges faced by the Irvington team during this meet, the swimmers never gave up and continued to challenge the competition from Washington. The team reaped the benefits of their efforts during both practices and at the meet itself, as it resulted in a victory for the boy's varsity team. The overall score was also quite close, at 271-325 in favor of Washington. Throughout the meet, and throughout the season overall, the Viking swim team has demonstrated its resiliency, persistence, and dedication to their sport.
About the Contributor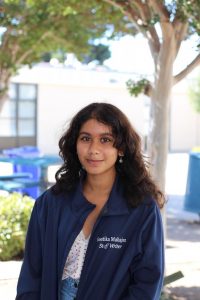 Geetika Mahajan, Humor Editor & Editor in Chief
Geetika (12) is this year's humor editor and editor-in-chief. Her hobbies include baking cakes at one AM and befriending stray cats. In her free time, she can be found scrolling through Zillow and apartments.com, getting emotionally attached to studios & lofts in New York City.