Mock Trial Guilty of Exceeding Expectations after Launching their New Bootcamp
On Tuesday, March 29th, Irvington's Mock Trial team launched their first ever bootcamp for students interested in public speaking, improvisation, and argumentation. After seeing a competitive application process in the fall, the team hopes to invite new students to their club and introduce the key concepts of mock trial. The club held the camp from March 29th to April 26th, and each weekly session covered new topics, engaged members in activities, and taught real world applications.
"Most of our material is covering the basics and foundations of trials which are applicable to all new members. Then, we break out into groups, and based on the type of role everyone is interested in, the content becomes more individualized," stated Selina Song (11), the club's president. "People are definitely welcome to go into more depth and learn advanced content." Over the four weeks, the camp covers concepts like the roles in mock trial, how a legal proceeding works, objections, and analyzing a judge's ruling. The sessions culminate into a showcase where students perform an examination at the end.
"I was able to better understand the structure of a court case, such as the pre-trial, direct examinations, and objections," stated Bhuvikaa Ghai (9). "It's really fun simulating a real trial and analyzing different witness statements." By offering a wide range of activities and roles ranging from witness, trial attorney, and bailiff, the camp can be tailored to students' varying interests. Many signed up for the camp because of their curiosity for law and justice, while others enjoyed the impromptu theater aspect of mock trial.
The officers on the mock trial team actually did a presentation in my drama class, and it was really cool," mentioned Logan Ho (11). "They explained how the role of a witness requires you to act and get into character, which is very natural for theater kids, so a lot of us were thinking about joining the club after that."
After ending their competitive season in February, the officers made a quick turnaround and began planning the logistics and organization of the bootcamp. By reaching out to various grade levels, including Horner students, and publicizing to diverse groups such as drama classes, the camp has seen over 25 attendees.
"I think the bootcamp exceeded all of the officers' expectations, and we've been wanting to hold one for a long time, so it was exciting to finally implement it and expand our club," said Song. "However, I think some of the logistics could have been streamlined more, in terms of the homework that was assigned, and the Google Classroom we created."
The main purpose of the camp was to bring more people into the Irvington community, and introduce mock trial to all students. With fall auditions being selective and limited, this bootcamp gives students the perfect opportunity to learn more about law and perform better in the club.
"Students should definitely enroll because this is a really great opportunity to expand your leadership skills, and public speaking skills. You really find your community here because we're a smaller, tight-knit club, so everyone's close to each other," reflected Song. "We all learn from one another, and if you're interested in acting, law, or public speaking, then this is the club for you." To become further involved in Irvington's mock trial team, students can join the club's Facebook group and be updated on upcoming events and next year's try-outs.
About the Contributor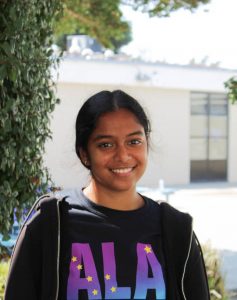 Riya Parekh, Staff Writer
Riya (12) is excited to be a first year staff writer for the Voice. She joined journalism to interview diverse people and eat good food on workdays. In her free time, Riya enjoys badgering her family members, eating Taco Bell, and spending time in her backyard.