Muslim Student Association Hosts Annual Iftar Potluck to Unite the Muslim Community!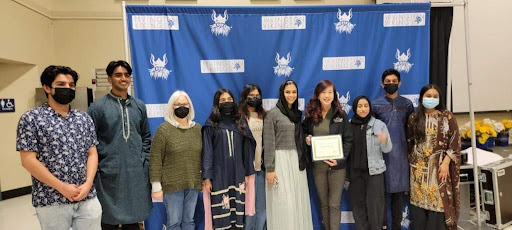 On April 13, 2022, Irvington's Muslim Student Association Club (MSA) hosted their annual Iftar Potluck event to bring together the Muslim community, breaking their fast together and educating others about Ramadan and its significance. The potluck lasted from 7 P.M. to 9 P.M. and included many activities such as prayer, a presentation explaining Ramadan, and speeches from Mayor Lily Mei and Assembly Member Alex Lee, who had stopped by.
Iftar is the meal that Muslims eat after sunset during their holy month of Ramadan. During the month, they partake in fasting from sunrise to sunset, a means of practicing self-control and becoming more empathetic to those less fortunate than them. MSA has hosted this Iftar potluck annually for over 5 years with the exception of the past two years due to the COVID-19 pandemic.
"It was really exciting to be able to hold this event in-person again," explained MSA Vice President Zayaan Khan (12). "We had a really great turnout with several non-Muslim people and a lot of families from Mission San Jose and Milpitas High School."
Irvington's MSA was able to publicize the event heavily and structure it appropriately to ensure that everything ran smoothly. Guests arrived and were seated by 7:30 P.M. and then waited until sunset at 7:43 P.M. to break their fast. Most attendees were able to get dates and water and then went on to pray from 8:00 P.M. to 8:15 P.M. As the number of attendees was so large, Dawood Rasheed (11) and Zayaan Khan (12) hosted two sessions of prayer.
"I have led prayers before but I was a little nervous because of the amount of people there and if they all would be able to hear me," admitted Rasheed. "The prayer went really well and I'm glad I was able to lead it with proper recitation."
After the prayer, all attendees settled down to eat and MSA began their presentation about Ramadan which included information about why it is done as well as how to speak to Muslims to learn more about Ramadan without being disrespectful or tone-deaf.
The event had over 75 attendees which included students and families from several high schools nearby including Milpitas, Mission San Jose, and Washington. Irvington's MSA team was able to coordinate with the MSA clubs at these schools and publicize the event to maximize the turnout. The cafeteria was bustling with people bringing in food, conversing, eating, and praying throughout the event.
"We had really great turnout this year and it was really great to see the Muslim community come together," stated MSA President Alizah Nauman (12). "MSA publicized the event very well by posting consistently on social media, hanging up posters around campus, having Mrs. MJ, our advisor, email the staff to invite them, and by having officers' parents publicize the information to friends and family."
The night ended with Mayor Lily Mei and Assembly Member Alex Lee both attending to acknowledge the event and joining the Muslim community during Ramadan. Irvington's MSA received a certificate of acknowledgment from Mayor Lily Mei for hosting the event. Overall, this event was well-organized and a great way to bring the Muslim community together during Ramadan while also allowing non-Muslims to participate and educate themselves about Islam and its practices.
About the Contributor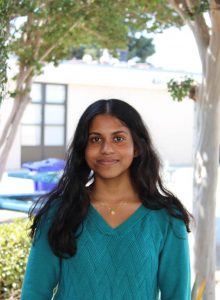 Anushka Nair, Humans Editor & Editor-in-Chief
Anushka Nair (12) is excited to be Vol. 30's co-Editor-In-Chief along with Geetika and co-Humans Editor along with Tanmay. She joined The Voice as a sophomore after obsessively reading the paper during advisory and finds it to be one of the best decisions she made in high school. When she isn't bothering staff writers about scheduling their interviews, you can find her reading memoirs, hiking, and trying out new restaurants.