The Grammys: A Night to Remember
The 64th annual Grammys awards show took place on April 3, 2022 and was action-packed from its stunning red carpet moments to its memorable artistic performances. Host Trevor Noah started the evening off with a remark about Will Smith's infamous Oscar slap, giving the audience a couple good laughs with his clever quips. From there, iconic artists from Silk Sonic to BTS gave a slew of brilliant performances, entertaining thousands of fans across the board.
Notable performances included BTS, who performed their hit song "Butter," in slick black tuxedos giving the audience "Mission: Impossible" vibes. Fans swooned as K-pop superstar V started the performance with a small act with pop sensation Olivia Rodrigo. Billie Eilish also gave an entertaining rendition of "Happier Than Ever," with her breathtaking vocals. The performance was certainly one of the highlights of the night as Eilish re-created rain effects on stage, adding to the intensity of her performance. Other notable artists who performed at the Grammys included Doja Cat, Brandi Carlile, Lady Gaga, Jon Batiste, and many more.
The night was also filled with emotion as Vladimir Zelensyky made a virtual appearance at the show, leading a Ukrainian tribute and appealing to the United States for help in fighting Russia. He directly established a relationship with his audience through asking "What is more opposite to music?" Aware that his audience mostly comprised musicians and art-enthusiasts, Zelensky went on to answer his question through explaining how it was "the silence of ruined cities and killed people." The heart-breaking speech caused many listeners to tear up and reflect on the power their voices could have to improve the situation in Ukraine.
Moments later, John Legend, along with two Ukrainian artists who managed to escape Ukraine just days earlier, performed "Free," adding an extra layer of meaning to Zelensyky's impactful appeal. The performance reminded audience members that music not only serves to entertain listeners, but that it also has the power to drive change.
On a less serious note, the Grammys also included a number of hilarious award moments. Doja cat received a grammy for her hit song "Kiss Me More," but was in the bathroom when she heard the announcement. She admitted that she didn't anticipate her victory against other prominent artists such as BTS and Coldplay. Overcome with disbelief, she ran on to stage to accept her award along with SZA and jokingly explained why her award acceptance moment was delayed.
Moreover, Dua Lipa and Megan Thee Stallion recreated a similar act to Whitney Houston and Mariah Carey when presenting best new artist while wearing the same dress from Versace. After commenting on each other's dresses, the two singers called on Donatella Versace to come on stage and fix the fashion "blunder." Versace humorously walked up on stage and ripped the dresses of the two signers, revealing that they were wearing different dresses underneath.
Overall, the Grammys were delightful to watch this year as it showcased brilliant performances from a diverse set of musicians and had a number of powerful moments.
About the Contributor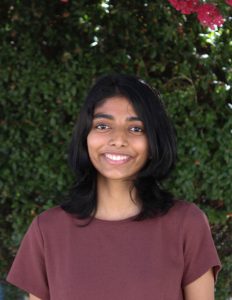 Ananya Anand, Humans of Irvington High Editor
Ananya (12) is excited to be a Humans editor at the Irvington Voice this year! She joined the Voice to highlight Irvington's beautiful, eccentric, and diverse community. In her free time, Ananya enjoys binging ATLA, writing poetry, and hanging out with her friends. Her IG is @ananya_anand05