Question Man: What conspiracy theories do you believe in and why?
"I don't really believe in it, but I think the conspiracy theory about microchips in COVID-19 vaccines is interesting."
– Ethan Chia (9)
"The simulation theory, since a lot of people believe in it."
– Ethan Liu (10)
"I believe in aliens/extraterrestrial creatures. I don't really know why I believe in it, but I don't feel like it's possible that Earth is the only place with life."
– Susana Lara (11)
"I don't really believe in any. I don't know many in the first place, and I feel like most of them don't have any evidence."
– Miyu Kotaki (12)
About the Contributor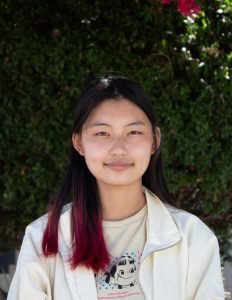 Emily Shu, Entertainment Editor
Emily Shu (11) is feeling strangely very optimistic about the current school year, despite being a junior now. This will be her second year with The Voice, and she's super excited to be an Entertainment editor. In her free time, she enjoys consuming an unhealthy amount of caffeine and debating whether or not it's worth staying up late at night before a school day.