Question Man: What conspiracy theories do you believe in and why?
"I don't really believe in it, but I think the conspiracy theory about microchips in COVID-19 vaccines is interesting."
– Ethan Chia (9)
"The simulation theory, since a lot of people believe in it."
– Ethan Liu (10)
"I believe in aliens/extraterrestrial creatures. I don't really know why I believe in it, but I don't feel like it's possible that Earth is the only place with life."
– Susana Lara (11)
"I don't really believe in any. I don't know many in the first place, and I feel like most of them don't have any evidence."
– Miyu Kotaki (12)
About the Contributor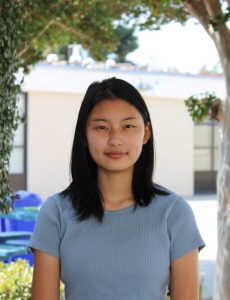 Emily Shu, Staff Writer
Emily Shu (10) is excited to be a staff writer for the Irvington Voice this year. She's grateful to be given this opportunity to join because she's always wanted to know what goes on behind the scenes for newspapers, and also because she enjoys learning and writing about relevant topics. Emily plays video games in her free time, and would like more recommendations for RPG-maker style horror games like Omori.