A Dive into the Past: All About Room 219 and 229's Cold War Unit and Decorations
Laughter can be heard echoing off the hallway's walls. Inside rooms 219 and 229 are splendid bursts of red and yellow; and red, white, and blue. Clinging to the ceilings are intertwined chrysanthemums of paper, fabric, and balloons.
As it turns out, Mr. V's and Mr. Einfeldt's two history classes are partaking in their annual classroom decorations that coincide with their Cold War unit.
At the beginning of the unit, each student got to choose a prominent Cold War figure to give a 5-minute long presentation on for their peers, thereby replacing their final exam. This in turn categorizes each student into either "capitalist" or "communist" factions, depending on the ideology of their chosen figure.
To mimic the rivalry between the U.S.S.R and the U.S. back in the Cold War, the two classes have scheduled small, 20-minute competitions throughout the unit to grant faction points. These competitions vary from knowledge-based trials testing students' knowledge of the Europe map–to purely chance-based activities like playing hot potato with a balloon. However, in each competition exists underlying connections to themes of the Cold War.
However, the big winner-take-all for students in both classes have been the ongoing classroom decoration competition. Each classroom is divided evenly along the middle; each half belonging to either the capitalist or communist faction. Students in each class then work with peers from other periods in the same faction to decorate their factions' designated side of the room.
Each faction has the potential of winning 50 points in Mr. Einfeldt's class, while the winning faction of Mr. V's class can omit up to 50% of the questions on their final unit test. Because of this, students of both classes remain motivated despite knowing they may have to sacrifice FLEX, advisory, or lunch hours to come in and decorate.
Currently, Mr. V's classroom features a distinct cardboard wall dividing the two sides, with colorful symbolic graffiti painted on both sides to replicate the infamous Berlin Wall of the Cold War. The capitalist side of the room sees a large bulletin board with red string connecting photographic pseudo-evidence of the Cold War together, while the communist side sees numerous communist propaganda posters on the back wall.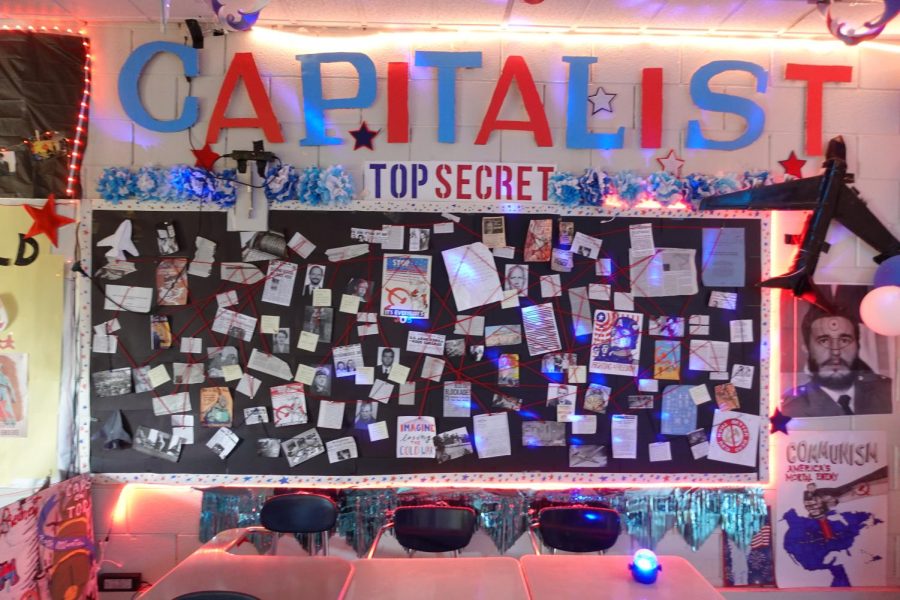 On the other hand, Mr. Einfeldt's classroom's "Berlin Wall" is an arrangement of gray paper taped to a wall shared by both the capitalists and the communists. Its capitalist side features a giant collection of red, white, and blue streamers and balloons dangling from the ceiling, while the communist side has countless flyers capturing Soviet slogans.

"This is something that I think helps to emphasize the divide between east and west in a literal sense," said Mr. V. "I wanted to get kids thinking about just how you have these two wildly distinct different systems competing, but coexisting, which is a big concept to internalize."
In the words of Lakhitha Thyagarajan (10), a faction leader for the capitalist faction in Mr. Einfeldt's class, "[The decorations] help us learn how to portray your [faction's] cause in a way that other people can understand it. It's one thing to learn about it, but another thing to advertise it so that other people will be able to understand what you're talking about."
As a result, students' high spirits about the decorations have been palpable. "It's been fun trying to design the whole place," says Prithvi Maddi (10), a period leader for the communist faction in Mr. V's class."But it's also been a bit stressful at times as it's hard to arrange a large number of people working together and get them to work towards one goal because not everyone wants to."
The final winner for both Mr. Einfeldt and Mr. V's classroom decorations will be decided by nonparticipating teachers during lunch on Friday, May 27.
About the Contributor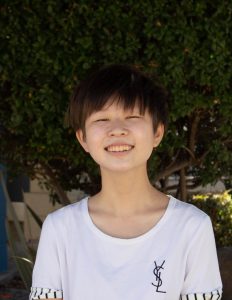 Crystal Chen, Graphics Editor
Crystal Chen is excited to be start her second year at
The Voice
! This year, she looks forward to making graphics that are weirder than muscular wheels, Mona Phillips, and kids falling off of unsuspecting horses. In her free time, she likes to play virtual dodgeball (and fail).