New Clubs at Irvington High School
As the new school year swings into motion, new clubs that did not exist one year ago fill Irvington. Eager to get started, many clubs have already started planning events and making major accomplishments in the community.
Book Club
Book Club, founded by Kelly Jia (10) last year, is one prime example. Their officer team, all sophomores, held their introductory meeting on September 14th. Prospective members packed the aisles in room 52, eager to learn more.
Book Club plans to hold short, biweekly meetings at lunch throughout the year in room 52, on a day of the week yet to be determined. The club provides a space for readers to share their thoughts on an assigned book that everyone reads.
"We do things that general book clubs do: we discuss books, give book recommendations, but also it's just really low-key," Jia explained. "It's okay if you didn't read the book and the chapters that we had to read, because we always provide a summary. And the meetings always end up going from scripted questions to just open discussion."
Since book clubs are common and plenty of people enjoy reading, the absence of one at Irvington surprised Jia. Realizing Irvington did not have a book club yet, Jia took the initiative to create her own instead.
Book Club initially had some issues engaging members.
"It didn't feel like a real club because it was brand new," said Christin Mendoza (10). "There wasn't much to do besides like, go to meetings during lunch."
Since then, however, the club has grown, holding many events, including a holiday book drive that they hope to repeat this year. Through a non-profit organization called Reader to Reader, the club collected over 60 books last year that were then shipped to underprivileged children.
Beyond the drive, Book Club announced a wide-ranging slate of plans for the upcoming school year, including outside collaborations and holiday-themed events, including a book-related cookie decorating event.
"I'm looking forward to reaching out to new, different book clubs outside of school and collaborating with them," Mendoza stated after hearing this year's plans at the introductory meeting. "And then also, probably the cookie decorations. That'd be fun."
Juggling Club
Juggling Club is another new club, only half a year old, founded by Eileen Chao (11) in March last year. It currently holds weekly meetings on Thursdays afterschool in room 121, running until around 4:15 in the afternoon. Although the club has not done much yet, it has ambitious plans.
As the name suggests, the club revolves around juggling, learning how to juggle, and performing juggling. Club members learn many disciplines of juggling, from juggling balls to juggling Chinese yo-yos. Chao is at the heart of the club, working hard to teach and spread the art of juggling to a wider audience.
"Once everyone [in the club] learns how to juggle, we're probably going to teach [students] at an elementary school," Chao stated. She also plans to lead the club to perform at various venues in the future.
Although her plans are fleshed out, gaining traction has been difficult.
"Probably my biggest obstacle would be finding people who are interested," said Chao. "When I ask people they're like, 'yeah, but I have other extracurricular stuff'…a lot of people who might be interested might be in afterschool clubs or marching band."
On the flip side, some members appreciate the small club size.
"It's actually pretty fun because it's pretty small and you can get to know everybody," said member Jaden Du (10). "Probably you can get to know everybody better than you would in like a large club."
The club is already looking forward to future performances. Keep an eye out for Juggling Club at upcoming rallies and at flash performances in the courtyard sometime soon.
Powerlifting Club
Last, but not least, is Powerlifting Club, just founded this year. Powerlifting is a sport to see who can lift the most weight, while physically weighing the least as a person. Members of the club train different muscles in their body to achieve this goal, improving their fitness in the process.
Attracting over 60 interested students to their first-ever introductory meeting, the club eagerly welcomes new people to their events, encouraging officers to push the club further.
The club's founders know the transformative power of working out firsthand. As a result, the club strives to provide guidance and encouragement for students trying to improve their physical fitness and personal health.
"I used to be pretty unhappy with the way I looked and how my life was going" said co-founder and club President Jeffrey Zhang (12). "Going to the gym really made me a better person overall, and I only joined because of the positivity, because my friends encouraged me, and I want to spread this message [of positivity in the gym] to more people."
Unfortunately, difficulties in communication with teachers prevent the club from scheduling regular meetings so far.
"Some obstacles we faced are like, communicating with like school advisors," secretary Kai-Wei Sung (10) explained. "There's been some trouble, like scheduling the weight room, because sometimes we would schedule it and Mr. Kaufman, for example, would use it for football practice, or when Mr. Goulet is unavailable, then we have to reschedule our meetings."
Undeterred, the officers are working hard to establish relationships with teachers so they can start holding regular events. Moving forward, the officers are already planning a powerlifting competition and collaborations with other schools.
All the above clubs are open to anyone interested in joining and eagerly look forward to the year to come.
About the Contributor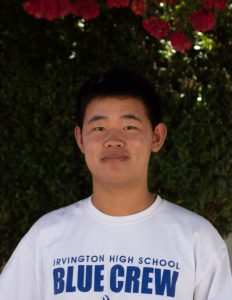 Francis Luo, Staff Writer
Francis Luo (10) is a first-year staff writer at
The Voice
. Some of his hobbies include doing weird music things that no one ends up listening to and writing poetry and short stories. He joined
The Voice
to participate in writing stories and help keep Irvington students informed.