10/12 FUSD Board Meeting: SURFBoardE Updates, Teacher Shortage, and More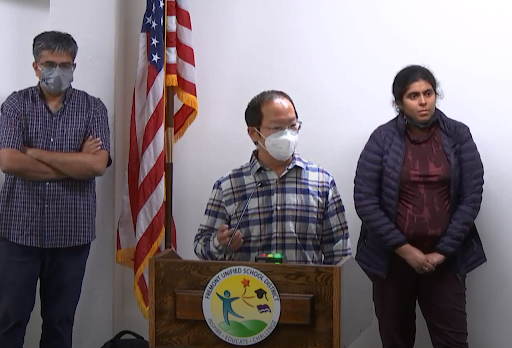 On Wednesday, October 12, 2022, the Fremont Unified School District (FUSD) held a board meeting to discuss increased funding for science materials in grades K-6, Local Control Accountability and Advisory Committee (LCAAC) appointments, and parent concerns about the current state-wide teacher shortage.
The meeting started with open session reports from superintendent CJ Chammack and student board member Sissi Zhang (12), who reported on homecoming and spirit week activities from different high schools, such as the club Fall Fest hosted at John F. Kennedy High School, and Irvington's Red Ribbon week, which will follow homecoming week. During the Open Session, Zhang also mentioned that SURFBoardE would be working to have more consistent communication with school administrations, and will also be working with middle school students to help provide more middle school representation and assimilate them in working within the district.
"We're visiting each middle school to present to them about SURFBoardE, and we're going to allow one student from each middle school as a representative," said Zhang (12). "This is to provide representation since a lot of the students we hear about are high schoolers…but it also gives them exposure to working within the district and gaining knowledge on how all of this works."
Following the open session was the discussion of the board agenda items for the meeting, which included a unanimous vote to increase funding for science lab materials in grades K-6, with an estimated budget of $678,000 from lottery funds granted by the state. The board also moved to approve the nominations of three members of the Local Control Accountability and Advisory Committee (LCAAC): Harpreet Kaur, Anna Schipper, and Anjanette Pelleter. The LCAAC consists of community members, district staff, etc., and determines how funding should be used to support unduplicated students, or students who fall under the following criteria: English learners, foster youth, and those who meet income/categorical eligibility requirements for free/reduced-price meals under the National School Lunch Program (California Department of Education).
After board agenda items were discussed, public comments from FUSD families addressed multiple concerns. The broken swimming pool scoreboard at American High School was addressed once again during this board meeting, by JV Boys' water polo captain Zikai Lian (10) from American High School. Lian brought up their concerns about the lack of communication from the district regarding repairs, and in response, superintendent CJ Chammack stated that staff "have been researching what the scope of repairs are" and stated that the district would ensure that there will be more communication regarding student concerns. Following this board meeting, the district has since addressed the issues of the broken swimming pool scoreboard and pool repairs, and while the pool has been repaired, the district is still working on sourcing replacement parts for the scoreboard.
Another topic addressed was the concerns of multiple parents from a 6th-grade classroom at Chadbourne Elementary School regarding the teacher shortage. This classroom currently lacks a permanent teacher, and as a result, students have been learning from instructional videos due to the lack of a structured curriculum. Though the effects of the state-wide teacher shortage are less prevalent in FUSD than in other districts, Chammack did address that there are "three classes that aren't covered by permanent teacher[s]", and that in the meantime, the district is "working very hard to identify qualified permanent teachers" to hire.
The next FUSD board meeting will take place on November 9, 2022, in person at the district office, and will also be live-streamed starting at 6:30 pm.
About the Contributor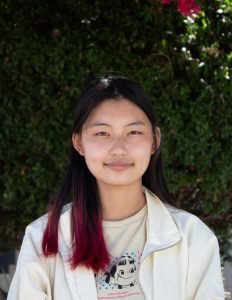 Emily Shu, Entertainment Editor
Emily Shu (11) is feeling strangely very optimistic about the current school year, despite being a junior now. This will be her second year with The Voice, and she's super excited to be an Entertainment editor. In her free time, she enjoys consuming an unhealthy amount of caffeine and debating whether or not it's worth staying up late at night before a school day.