Ready for a Change? Let's Taco-Bout the Trucks
Are you tired of Bronco Billy's and the school cafeteria everyday? Are you upset that the only fast food near you is McDonalds and Taco Bell? Do you want something more authentic? Well, I was on a mission to know which taco truck (in close proximity to school) was the tastiest, cheapest, and fastest for students to be able to change up their lunch menu.
Irvington High School is surrounded by MANY taco trucks. With a group of Irvington's finest food critics, we hit 4 food trucks within five minutes of driving distance from the school's parking lot. As we visited each unique truck, we asked what their two best meats were and ordered tacos of each meat to try them. Disclaimer: most taco trucks only accept cash, so if you plan on following my advice make sure you bring cash.
Our first taco truck was Tacos el Kiko located on the corner of Fremont and Blacow, across the street from Tpumps. Tacos el Kiko told us that their two best meats were Al Pastor, a sweet pork served with pineapple, and Carne Asada, a staple grilled steak. Each taco cost $3.25 and we were served in 4 minutes.
Tacos el Kiko sadly disappointed as both of their tacos were fairly dry. The tacos did have good flavor; they were just drier than some of the other trucks. One plus was that you got to choose your condiments, which included different salsas and extras to decorate your tacos. But overall, Tacos el Kiko got a 4.5/10.
Our next taco truck was El Gordo y el Flaco located on Fremont at the 7/11 in front of Grimmer Elementary. They told us that their best meats are Pollo, just regular chicken, and Carne Asada. Each Taco cost $2.89, which is significantly cheaper than Tacos el Kiko, and we were also served in around 4 minutes.
El Gordo y el Flaco was an overall step up from Taco el Kiko. The chicken was nothing too special but it wasn't dry, which happily surprised us. The Carne Asada taco was really good because it was soft and not dry. Both tacos had great flavor. In the end, El Gordo y el Flaco was a solid 7/10.
Down Grimmer Blvd at the Fremont Gas & Food gas station we found our 3rd taco truck Los 3 Paisos. This truck was really cute with a nice outdoor seating area, definitely your best picture worthy lunch. Their best meats were Carne Asada again, and Chorizo, pork sausage. Each taco was $3.15 and we were served in under 5 minutes.
Los 3 Paisos was a very mid taco truck. We we were given our tacos, they were plated very nicely, and their presentation was great. Their Carne Asada was not outstanding and it was very dry. Their Chorizo tacos had a really good flavor but their tortillas were a little too dry for our liking. That said, their salsa was the best of all the ones we had and it made their tacos really good. In total, Los 3 Paisos received a score of 6/10.
Our last stop was Estelita Taco Truck located on Grimmer Blvd at the Valero gas station. Their two best meats were Carnitas, shredded pork, and Pollo Asado, grilled chicken. Each taco cost $3 and we were served in 7 minutes which was our longest wait time.
Though looks can be deceiving, the run down Estelita Taco Truck did not disappoint. Their serving portions were much larger than the other taco trucks and with your meal they also gave you tortilla chips, beans, and condiments on the side. The Carnitas tacos were slightly dense but very flavorful. Though carnitas are often dry, these tacos were not. The Pollo Asado tacos had an amazing flavor and a very light salsa that brought the taco together. Both tacos were slightly greasy but it kept the tacos from being dry. Overall the Estelita Taco Truck got the best rating of 8.5/10. If you are up for some authentic Mexican food our suggestion is to run to Estelita Taco Truck for the most filling and flavorful choices. If you are a little shorter on time or funds then head to El Gordo y El Flaco for the cheaper and still acceptable option. No car? Then run to Tacos el Kiko but you have been warned. Just be grateful that you don't go to Mission San Jose HS because even with a car the only thing to eat close by is McDonald's. We are pretty spoiled with all of our options, so take the time to look around you instead of falling back into the same old routine!
About the Contributor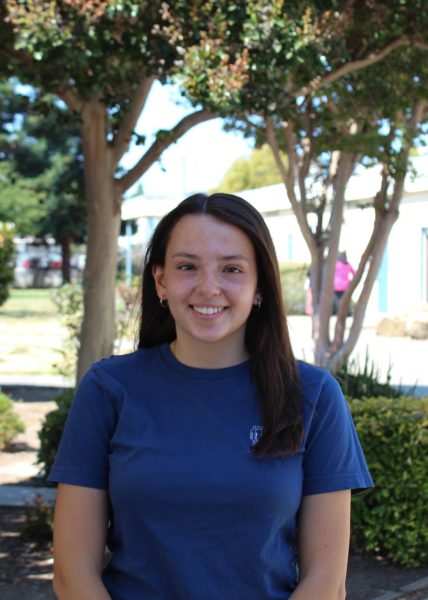 Lynnette Chavez, Photo Editor
Lynnette Chavez (12) is a third-year photo editor for The Voice. Other than working on the paper, you can find her working with MEChA, baking, or hanging with her friends. She is a Utah-born Bay Area transplant. She embraces her Hispanic culture through Latin music, folklorico dancing, and MEChA.  Find her on Instagram (@lynnette.chavez)