We're Glad Her Mom Died: A Book Review of Jennette McCurdy's memoir I'm Glad My Mom Died
Trigger warning: sexual abuse and eating disorders. Mild spoilers ahead.
"Mom is in the ICU at the hospital. The doctor told us she has 48 hours to live. I'm not listening to what [my brothers] have to say to try to get Mom to wake up. I've got something more important to offer. 'Mommy, I am so skinny right now. I'm finally down to 89 pounds."
I'm Glad My Mom Died is a memoir about Jennette McCurdy's life after being forced into the acting industry in order to live her abusive mother's dreams for herself. The former child star of Nickelodeon's iCarly exposes the corruption of minors and horror stories of sexual abuse. However, the novel's greatest antagonist is her mother and herself. Jennette reveals everything about her traumatic childhood in disturbing yet essential detail, from her mother's "vaginal checkups" to vicious emails directed at Jennette calling her a "LYING, CONNIVING EVIL and nothing more than a little SLUT, but P.S. send money for a new fridge."
From the age of 5, Jennette is burdened financially and emotionally, being the sole source of income for her family while having to control her mother's erratic emotions. McCurdy writes, "No one else in the family seems to understand Mom's emotions… But I always know. I've spent my whole life studying her so that I can always know, because I always want to do whatever I can in any given moment to keep or make Mom happy. Mom is grateful-happy. This is my favorite way to see her, because I am directly the source of it."
Her mother is put on a pedestal, and Jennette neglects her personal feelings and needs as they are overtaken by her intense desire to please and understand her mother. This takes to extremes when her mother forces her daughter into calorie restriction after expressing discontent that her baby was growing up. Jennette was taught an eating disorder at just eleven years old, spiraling into anorexia, bulimia, and binge eating. After her mother's battle with cancer ends, Jennette is left directionless. She falls deeper into depression, binging, and drinking as readers follow her journal to unwind an entire belief system and rebuild her identity.
This is genuinely one of the best books I've ever read. Her writing style is a work of art in itself. The structure of the novel is a documentation of her past, and like a time machine, readers are along the journey with Jennette. She manages to put readers into her headspace at different ages by having the writing grow more complicated as the novel progresses, with early chapters written like a child's diary with simple sentences to messy and cursing monologues as she develops.
The book first caught my attention for its title. People jumped at her after taking one look at the title and called her dramatic, ungrateful, and offensive. How dare she say something so atrocious? Jennette recognizes the controversial title and cover where she smugly holds a bright pink vase of her mother's ashes in a genius yet morbid contrast of the humor and darkness of her memoir. The final scene is Jennette standing in front of her mother's grave. She reads the stream of words, "'Brave, kind, loyal, sweet, loving, graceful, strong, thoughtful, funny…' Was she though? Why do we romanticize the dead? Why can't we be honest about them?
She earned that title, and on behalf of Jennette, I'm glad her mom died too.
About the Contributor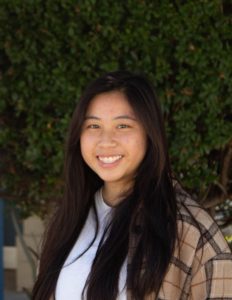 Rosalyn Weng, Opinions Editor
Rosalyn Weng (12) is the Opinions Editor for Volume 31 of the
Voice
. She's passionate about sharing her love for writing, editing, and filmmaking. She's most excited about finally being able to brutally destroy J1 kids' articles (lovingly). She apologizes in advance if she calls your writing "so bland that even Gordon Ramsay is quaking."