Wakanda Forever: A Touching, Albeit Flawed, Tribute
Black Panther: Wakanda Forever is tasked with no easy job: how does a film live up to its wildly successful predecessor without its former star, all while meeting the requirements of the Marvel Cinematic Universe? Through its lengthy 2-hour-41-minute run, Wakanda Forever tries to balance a complex portrayal of grief with the adrenaline-packed pulse of an action movie, resulting in an easily enjoyable box office success – albeit one that lacks real nuance.
In the wake of the original Black Panther, Chadwick Boseman's passing in 2020, director and screenwriter Ryan Coogler and screenwriter Joe Robert Cole were forced to rethink their visions for the franchise. Instead of recasting the role, however, they opted to make Wakanda Forever a touching tribute to the late Boseman, opening the film with his character, T'Challa's, offscreen death from a mysterious illness. Queen Ramonda (Angela Bassett) assumes the throne, fending off foreign nations' attempts to steal Wakanda's vibranium for their own benefit. Before the queen and T'Challa's sister Shuri (Letitia Wright) can fully process their grief, they are confronted by the flying, pointy-eared god Namor (Tenoch Huerta), who hails from the underwater nation of Talokan. Using a vibranium detector invented by MIT student Riri Williams (Dominique Thorne), Western nations have threatened Namor's homeland in their hunt for underwater vibranium. Thus, Namor proposes a military alliance with Wakanda; war is the alternative. As the conflict intensifies, Queen Ramonda and Shuri find much-needed aid in returning favorites Okoye (Danai Gurira) and Nakia (Lupita Nyong'o).
Driving the plot is grief, embodied in varying stages by Queen Ramonda, Shuri, and Namor. Shuri and Namor, in particular, channel their grief into rage: Namor's people were once indigenous Mesoamericans, forced into the depths of the ocean by Spanish conquistadors who spread smallpox. All too familiar with the atrocities of slavery and colonization, Namor seeks revenge. Yet this is far from the peaceful future T'Challa envisioned, and Shuri is torn between honoring her brother's legacy and succumbing to her anger. Wright, who herself was still mourning the loss of her colleague Boseman while filming Wakanda Forever, delivers a touching performance. Unfortunately, the need to keep moving with action movies prevents touching and emotional scenes from being impactful. Instead, the film lunges from one obligatory plot point to another as it sets up future MCU films and TV series, like Ironheart (which centers around Riri Willams). It also indulges in a subplot about Shuri's "favorite colonizer" and CIA agent Everett Ross (Martin Freeman), which ultimately contributes nothing to the film.
What the film lacks in emotional depth, however, it almost makes up for in the vitality and vibrancy of Wakanda's set and costume design. Designed by Hannah Beachler and Ruth Carter, respectively – both of whom won groundbreaking Oscars for their work on the first Black Panther – Wakanda Forever's symbolic sets and costumes tell stories of their own, bringing the film's futuristic world alive. Carter's costumes, for instance, draw on Afrofuturist visions of an Africa free of colonization, gracefully melding sci-fi influences with African cultures and nature. Perhaps one of the most eye-catching examples is Queen Ramonda's intricate Zulu-inspired, 3D-printed, white headdress. The underwater Talokan, meanwhile, presents a Mayan- and Aztec- inspired reinvention of Atlantis.Overall, Wakanda Forever is a touching tribute to Chadwick Boseman that sets itself apart from other superhero films through its unlikely heroine and authentic portrayal of African and Indigenous people. Yet the most imposing presence in the movie is perhaps Boseman's absence – like Wakanda itself, Wakanda Forever exists in his larger-than-life shadow.
About the Contributor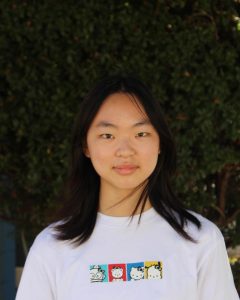 Helen Yuan, Opinions Editor
Helen Yuan (12) is excited to edit for Opinions in her second year at The Voice. She's looking forward to finishing her senior year and graduating. In her free time, Helen overanalyzes poetry and re-organizes her Google Drive folders.