Quizlet: A Growing Monopoly on Education
I'm sure that we're all familiar with Quizlet: the online website and app that allows us access to learning tools such as flashcards and interactive features like games. In my personal opinion, Quizlet doesn't help much when it comes to learning new information, but can be a game-changer when it comes to memorization and an individual's retention of concepts. However, as of August 1, 2022, Quizlet is now partially blocked by a paywall which has sparked immense debate among students. Users know and love Quizlet for its ease of use, stores of information and easily-digestible study material, which is why it should be fully accessible to all.
With tens of millions of people visiting the Quizlet platform on a monthly basis (according to the site's "About" page), there is no doubt that Quizlet is a key player in the world of online study tools. A major aspect of Quizlet's success can be attributed to the fact that all of its features are, or were, free. Quizlet recently introduced Quizlet Plus, which includes several advanced features. This upgraded version offers a week-long free trial and then charges $7.99 on a monthly basis or an annual payment of $35.99. Two of Quizlet's most helpful tools, the "Learn" and "Test" modes, are now locked behind paywalls. Quizlet Plus is ad-free and also includes smart grading, which can check whether your answer is correct regardless of exact wording, personalized study paths meant to accommodate your learning goals, and harder questions drawn from other study sets to test your level of knowledge.
In response to Quizlet's new paywall, there has been controversy surrounding whether or not Quizlet should instead be completely free to all users. Quizlet offers multiple helpful study tools, as well as access to digital versions of textbooks and their answer keys. Although schools often provide PDF versions of their textbooks and other course materials, Quizlet's resources include answers and explanations that students can use to check their answers and whether they used the correct methods to reach those solutions.
Making Quizlet and its improved features free to all users levels the playing field for students who don't have the same financial means to afford educational resources that are blocked by such paywalls. Already so many academic platforms, opportunities, and access to higher-quality education such as private tutoring, standardized testing prep courses, summer programs, and college counseling are inaccessible to those who cannot afford the additional cost. Adding full access to Quizlet, which was previously free to all, to the ever-growing list of educational inequities will end up hurting students and expanding the already-existing academic divide. Now more than ever, equally accessible technological resources and support are key to combating the educational gap.
A good point to note is that ultimately, Quizlet is a for-profit company—its goal is to make money and extract revenue from providing resources. We can't expect Quizlet to remain free of charge forever. In contrast to educational organizations such as Khan Academy, which is a 501(c)(3) non-profit classified platform, Quizlet has no real incentive for allowing everyone access to all its tools at no cost and advancing educational equity. It's a business, so it needs to be profiting from its services—one way or another.
However, there is no reason why Quizlet cannot simply derive its revenue from ads on its app and website. Prior to the introduction of Quizlet Plus, this is how Quizlet made all of its money. The frequency as well as placement of ads are not too bothersome and do not get in the way of accessing the materials. Considering that approximately two-thirds of high school students are reported to use Quizlet on a consistent basis, not to mention the non-high school users who amount to large amounts of website traffic, Quizlet certainly has no shortage of ad views. Of course implementing a paywall through Quizlet Plus also factors in an additional source of revenue, yet this could actually end up discouraging former and current site visitors. Users who are used to being able to access all of Quizlet's features might be turned away by the fact that its best features are locked behind subscription fees. 
While Quizlet should be fully accessible to all in the name of leveling the educational playing field, we must recognize that it is a for-profit company. It doesn't really make sense to call upon a for-profit platform to take charge in addressing issues of inequity. Instead, we should be targeting the crux of the Quizlet conversation. Why has student dependence on Quizlet and similar organizations increased? Are our school systems not doing enough to provide adequate educational resources? Or rather, why are educational systems set up to instigate and further the already-widening divisions between the have and the have-nots? We must look deeper into the core of the issue by understanding the flaws in our institutions as they stand, who or what is to blame for these issues, and the realistic solutions that we can bring to the table.
About the Contributor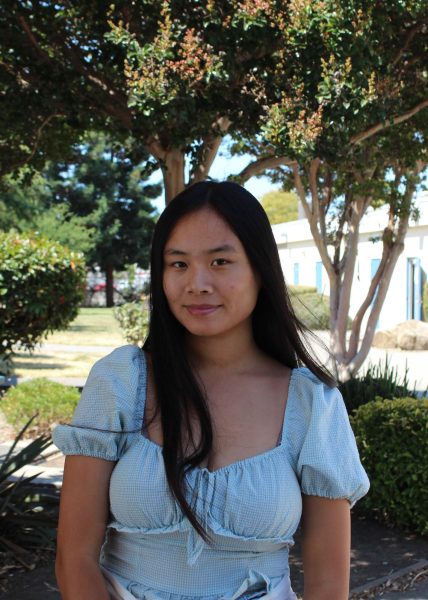 Serena Luk, Editor in Chief/Student Life Editor
Serena Luk (12) is looking forward to her second year in The Voice as Editor in Chief and Student Life Editor. As Student Life Editor she hopes to bring more attention to the diverse array of activities at Irvington. Outside of school, Serena enjoys playing tennis, collecting glass drinkware, and a *lowkey* unhealthy caffeine addiction :,)