Winter Concerts Bring Festiveness to Irvington
From Tuesday, December 14 to Thursday, December 15, Irvington's choirs and six band groups performed at Irvington's Valhalla Theater to celebrate the upcoming holidays with festive music and ambiance.
Choir
Unconstricted by COVID regulations this year, Irvington Choir, consisting of Treble Ensemble, Chamber Chorale, Concert Choir, Bass Barbershop, Fresco Femme, and Viking Jazz, was able to sing indoors with a full house on Wednesday, December 13. The theme was "Candy Cane Lane," and similar to its theme, the music presented was just as sweet. With songs from different languages, such as "S'vivon" in Hebrew, and audience sing-alongs like "Home For The Holidays," the choirs brought joy to the crowds with their performances.
"The [main] choirs rehearse four days a week. And we've been working on those pieces since late August," explained Mrs. Olson, Irvington Choir's conductor and instructor. "Fresco Femme, Bass Barbershop, and Viking Jazz rehearse 30 minutes each week."
In a collaborative effort between each choir and Mrs. Olson, the groups picked pieces to fit their skills and interest. Challenging themselves with difficult music, the choirs grew into their pieces as they prepared to perform.
"I think every concert gets better and better because we add new things," said Mohika Pandey (12), an Alto in Treble Ensemble. "This time, it was really engaging with choreography from different ensembles."
The concert wrapped up with "Twelve Days of Christmas," an interactive piece sung every year in tradition by all the choirs and the crowd, a perfect end to the sweet performances.
Band
On Wednesday, December 13 and Thursday, December 14, performing groups for band included a Jazz Combo, the Freshman Symphonic Band, Symphonic Bands I and II, and Wind Ensembles I and II, each night of performances having seats packed full of eager family and friends. The program featured an assortment of typical concert pieces as well as fun holiday favorites such as "This Christmas," "The Nightmare Before Christmas," "Themes from the Nutcracker Suite," and the classic "Sleigh Ride" arrangement.
The selection of pieces also included songs that the bands were already familiar with performing from competition-level concerts during the marching band season. Between these and the holiday tunes, the bands performed just the right mix of music to fit their winter season theme.
Both nights of concerts went without a hitch and it was evident that the bands' time and effort spent rehearsing had paid off.
"Everything went smoothly, everything flowed, and everybody was on time, so overall it was a good performance" stated 9th Grade Symphonic Band percussionist Samuel Abram (9) on his first time performing at the winter concert.
Overall, the mood was light and festive as the audience was full of proud parents, siblings, friends, and even teachers who responded to each piece with generous rounds of applause. While the bands encountered no major difficulties in preparing for the winter concert, that isn't to say there were no challenging aspects involved.
"Every time we perform it's always in a different environment—we usually practice in our band room, so one of the challenges is performing in a space that you don't actually get to practice in," shared concert conductor and band teacher Mr. Rodda.
However, the bands all performed beautifully and inspired audience members to power through the final week before winter break.
Orchestra
The Orchestra, conducted by Mr. Anaya, also performed three pieces at the beginning of Thursday, December 14, evening's concert, the symphonic pieces "Synergy", "Anitra's Dance", and "The Highwire." This year's Orchestra was composed of a majority of violins, two cellos, and one viola.
"Near the concert, we rehearsed our three songs basically every day," recounted Violist Sandee Liu (11). "Our songs were fun to play and a good level for our Orchestra."
The pieces included a variety of tempos and tones with the instruments were synched in perfect unison. Practices went smoothly, but other obstacles made preparing for the concert more difficult.
"The biggest challenge we've faced this year is the lack of some sections, for example, I'm the only viola," remarked Liu.
The concert line-ups certainly brought happiness and warmth toward the end of the semester this year, allowing everyone to find comfort in the festivities of the holiday season and the new year. Performers and audience members alike enjoyed the cheery atmosphere and had a delightful time.
About the Contributors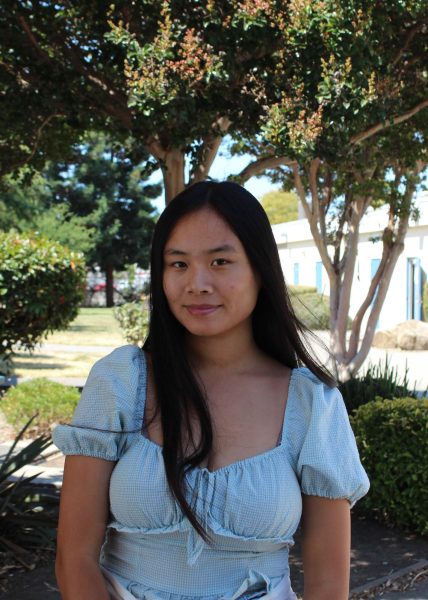 Serena Luk, Editor in Chief/Student Life Editor
Serena Luk (12) is looking forward to her second year in The Voice as Editor in Chief and Student Life Editor. As Student Life Editor she hopes to bring more attention to the diverse array of activities at Irvington. Outside of school, Serena enjoys playing tennis, collecting glass drinkware, and a *lowkey* unhealthy caffeine addiction :,)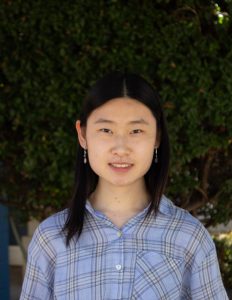 Sophie Mo, News Editor
Sophie Mo (12) is delighted to be a news editor for
The Voice
this year. Other than staring holes into a google doc never to write, she can be found scouring for new books and literary magazines to consume in her spare time.