Small in Business Size, but Large in Memories
Ryan Nguyen enjoys going to Ofelia's Taco Truck during lunch.
Ryan Nguyen (11): When you look back at High School in the future, you will remember all the times you went out with your friends and had a great time. At the end of the day, that is what this time of our life is for: making memories.
There was no concept of an open campus until I got to high school; however, my sister was at Irvington and she had told me about it. So I was pretty excited when I got to Irvington High School and experienced it myself.
As a sophomore, my friends and I went to explore the Thrift Store complex. We tried the CK barbeque caf and the Donut Shop down the corner of that complex. I found it really convenient that those places were so close to the school, being just a short walk away. It allows you to go there with your friends even if you lack a license.
However, in my junior year, my friends and I started to venture out further to places such as Pacific Commons as we got our licenses. It just provides more options for eating lunch, such as the new and popular Crumble Cookies. Lunch overall gets better as you get older in High School.
But, to be honest, nothing beats Ofelia's Taco Truck. It is located near the cemetery in front of Horner Junior High. It's a little far, but I have been going more often as my friends get their licenses. My order at Ofelia's is this pork taco; however, I don't really go there for the food; the real draw is the vibe. The lady who has been running the truck is really nice, and her service is quick and efficient. On top of that, you see many other students from Irvington High School there making it feel very homely. The area in general just has this nostalgic vibe to it that's hard to explain.
Another thing that has really changed my perspective about these stores is my own work experience at Teaspoons. It is a Boba Shop near Warm Springs, and not to be biased or anything, but in my opinion, it is better than T-Pumps. Overall, hourly workers in restaurants have this reputation of not really caring about their work, only worrying about tips, and overall not having a passion for their job. However, a lot of people don't realize the effort many workers put in and the difficulty of these jobs. Customers should treat the workers a lot better. Overall, exploring these places are essential to the High School experience.
That's what school is really about, making memories with your friends and having fun. In the end, it's the memories that really matter.
Aniq is a daily customer of Bronco Billy's Pizza Palace.
Aniq Pathan (11):
I never thought I would become a "regular" at Broncos when I first arrived at Irvington. I was slightly aware of the various dining and shopping options around Irvington High School. However, I primarily ate school lunch and remained on campus with my friend group.
Later in my sophomore year, a junior friend of mine told me about Bronco Billy's and the pizza they have to offer. I was aware that Irvington had an open campus; however, I was never enticed to leave campus because of my experiences at my last school. It too had an open campus well, but the options around it were not good. However, my friend's description of Broncos intrigued me and I finally decided to give the restaurant a shot.
It turns out going there was the right decision, as the food at Bronco's far exceeded the school lunch. In the end, the environment of Bronco's kept me going there. It is quite welcoming, and for example, I was pleasantly surprised to see a six-year-old there: that's not something you see every day at a restaurant near a high school. Now, my friends and I go to Broncos nearly every day, whether it be to actually eat the food or just hang out.
Really what separates the vibes of Broncos from other places is the way it is set up. It really does not feel like you are in Fremont, it is almost like a capsule in time. Especially the way the the restaurant is designed, it really makes it feel like you are in a different era.
It's not to say that it is the only place I have been to. I have tried the Donut Shop, which I am not a big fan of. For non-food options, I have been to the Thrift store and Walgreens. The Thrift store is an interesting experience, to say the least, as you have no idea what you will find there. As more and more of my friends get licenses, I plan on exploring further out of the school. I have gone to the Taco Truck and T Pumps down Blacow Boulevard, the latter of which I absolutely despise. Sometimes the "tea" ends up tasting like juice, and the flavors offered are not good at all. The Taco Truck offers some nice Chicken Tacos though. Overall, there are plenty of options near Irvington High School that allow us, students, to enjoy lunchtime to the fullest.
About the Writer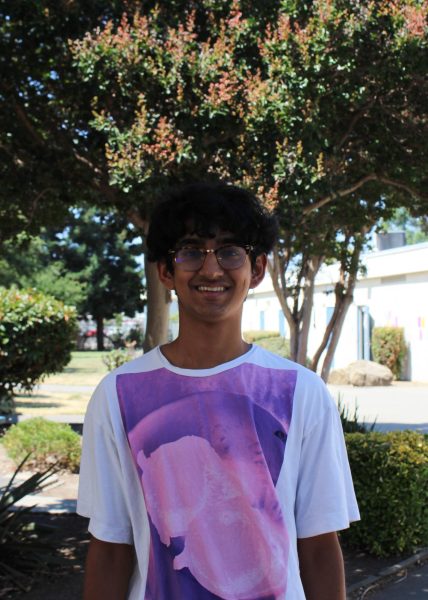 Soham Sethi, Sports Editor
Soham Sethi (12) is a second year sports editor for The Voice. He enjoys playing basketball, watching football, and walking his dog. He is also an avid procrastinator, Scoot Henderson fan, and The Office fan. He is not superstitious, only a little stitious.