Current Textbook Piloting in Irvington's Social Studies Department
Outdated textbooks are notorious at Irvington, with some alumni teachers teaching from the same textbook they learned from as students. To combat this, some teachers would often ignore the textbook entirely and create their own curriculum. However, this causes variations in schoolwork and content from teacher to teacher. In an attempt to create a standardized curriculum, the district is piloting textbooks.
Textbook piloting is when teachers and students test new textbooks in hopes of finding a textbook that offers an array of diverse viewpoints, is reflective of current events, and comprehensive. Currently, a portion of Irvington High School's history department—Mr. Vucurevich with World History Honors, Mr. Thomas with College Prep Government, and Ms. Fields with Economics Honors—are testing out new history textbooks to be used in future years.
Prior to the beginning of the school year, a committee of 7 history teachers from across the Fremont Unified School District came together to decide on two textbooks for each class to pilot throughout the year. Once decided, the teachers then test out the textbooks in their classes. The teachers will reconvene in March to give their final recommendations on the textbooks and send their suggestions to the Fremont School Board for the general public to pitch in their ideas as well.
In Irvington High School's history department, the piloted textbooks vary in topics. Mr. Vucurevich is piloting a textbook from publishing company McGraw Hill and a World History Interactive textbook, which is an updated version of the current Pearson textbook produced in 2007. Both are improvements from the current textbook, but the World History Interactive textbook has done a better job at explaining information according to Mr. Vucurevich.
Mr. Thomas is piloting a McGraw Hill that takes a traditional approach that requires more memorization and has more comprehensive questions. He is also piloting a National Geographic textbook, which came with breathtaking images but lackluster information.
Ms. Fields is using a McGraw Hill textbook with more worksheets and quizzes and a Social Studies Alive textbook from TCI, a California based social studies company built around the California Public School curriculums. This textbook is more hands-on, has more projects, and seems to be more enjoyable for students according to Ms. Fields.
When piloting textbooks, teachers always have to be aware of the potential issues with their new curriculum. For example, in Ms. Fields' Economics Honors class, the McGraw Hill textbook incorporates website assignments for students to do. However, this turned "into a massive disaster" as the website had confusing formatting and forced many students to redo questions. The website section was quickly scrapped soon after.
The new textbooks will continue to be piloted until the end of this year. After the Fremont Education Committee decides on a textbook, it may be formally implemented as early as fall 2023.
For now, teachers such as Mr. Thomas hope that by piloting textbooks, "they can be a part of the solution for the issue of outdated curriculum."
About the Contributor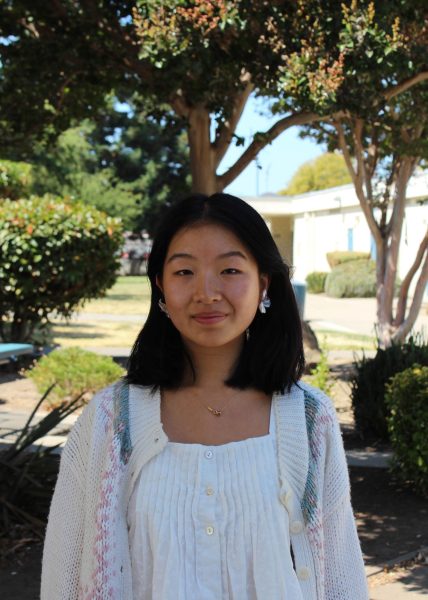 Jessica Li, Opinions Editor
Jessica Li (12) is psyched to be an Opinions Editor for Volume 32. When she's not working (which is too often), reading women's divorce fiction (think Gone Girl), or making dirty matchas (Ippodo supremacy), she can be found at a concert near you. Ask her about her transit rankings, what she thinks about her partially to nearly-finished Everything Everywhere All at Once song reader, or – at your own risk – suburbs.