Dil Se: A Show from the Heart
On Saturday, February 11, 2023, Irvington Indopak held its annual South Asian dance showcase, Dil Se, in Irvington's Valhalla Theater. Twenty-one dance teams from high schools across the Bay Area performed over a duration of three hours in both a day and a night show. The fest was notable this year for a multitude of reasons such as high-demand tickets, an extravagant dance line-up, and a heartwarming sense of community.
The show started off with a humorous introduction of emcees Dhruv Gupta (12), Anika Kanhere (12), Eshan Maheshwari (12), and Swara Vinai (9). The curtains then opened to an upbeat performance from Amador Valley High School's Dhamaka team. Various South Asian dance styles were displayed through the lineup such as IHS Natya's classical Bharatnatyam, Evergreen High School's Raas folk dance, IHS Soor's act which combined Garba with Raas. There were also many hip-hop and Bollywood-based dance productions like Cupertino High School's Bollywood Fusion presented by Tino Dhadkan. Throughout the acts, emcees made lighthearted jokes to transition between teams.
"The highlight of the night show for me was the game that we played before Homestead Nashaa. When we brought out 'Shahrukh Khan'—that was really fun," Vinai (9) reminisced about Gupta's (12) costume act after a trivia about Bollywood pop culture with the audience.
During intermission, clubs such as Vietnamese Student Association collaborated with Indopak by setting booths outside the Valhalla. This helped cultural clubs connect, as VSA President Vivian Nguyen (12) explains the club plans to include Indopak in their cultural show "Fremont by Night" to be hosted later this year.
As intermission transitioned into the later half of the show, dancers and Indopak officers walked the stage in extravagant desi wear for the Fashion Show. Bollywood-fusion team Irvington Sitaare ended the night with a seventeen-minute dance finale based on the Bollywood movie Yeh Jawaani Hai Deewani. The team donned glittery outfits while depicting the tale of three best friends, played by the captains, and the eventual romance between two of them.
"Leading up to Dil Se, we held practices for three to four hours every day," co-captain Manya Strivastav (12) recalled, "With all that time spent together, I really focused on making sure we bonded as a team". For Irvington dance teams like Sitaare, although they would perform in other shows, Dil Se held the most importance; it was their homecoming and senior night in one.
Auditions were held in late November of 2022 to select the lineup. Teams prepared intensely for the show, and eight teams including Irvington Sitaare, Mission San Jose Ishaara, and American High School Tufaan became candidates for the Bollywood Berkeley show, a Northern Californian wide event.
Behind the scenes, planning this year's Dil Se heavily involved Indopak co-presidents Anika Kanhere and Kashvi Kamra, who were excited to return to the show to its former glory. The 2021 show was fully virtual, while the 2022 show was set to half capacity and required dancers to wear masks.
"We started planning logistics of the show from the first weeks of school," Kamra (12) explained. With multiple people working behind the show—dancers, lighting and sound crew, among others—Dil Se required multiple volunteers. Samah Qadeer (12) spent her time as a volunteer preventing non-ticket holders from sneaking in.
"I had to hold the door back to keep people from coming in during the show," Qadeer (12) described, "but it was fun to watch both shows for free."
As multiple non-Irvington students were performing, Indopak decided to sell tickets via TicketLeap instead of Viking Vendor. Because of Valhalla's limited seating, these tickets sold out within seven minutes. Furthermore, due to the high demand of Dil Se, the process of selecting teams was selective. This led to slight controversy when not every team that auditioned was granted a spot in the lineup.
"Dil Se has a really big reputation, and a lot of hype building up to it," co-president Kamra (12) reflected and was glad to be "told the event was very well organized". Proceeds from the show will be donated to Turkey, Syria, and Pakistan.
The high anticipation for Dil Se paid off; Indopak reminded Irvington, and the greater Bay Area, of the beauty of South Asian dance once again.
About the Contributor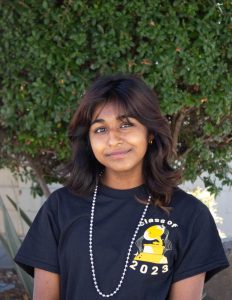 Urmi Mandal, Features Editor
Urmi Mandal (12) is excited for her third and last year at the Irvington Voice. She's been the feature's editor for the past two years. In her free time, she enjoys reading historical fiction and watching period dramas.