Top Stories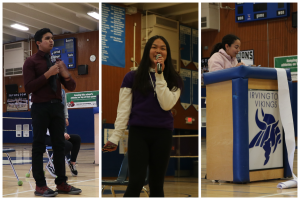 Rory Conlon, Joy Kuo, Darsh Singhania, Serena Yeh, Alice Shu, Geetika Mahajan, Will Peng, and Geoffrey Zhang

February 20, 2020
The elections for Irvington's senior class officers are this Friday. In continuing with our coverage of this year's ASG elections, staff reporters interviewed each of the three candidates. Below are their interview transcripts. Feel free to click into any of the candidates' interviews. ...
November 16, 2016
http://issuu.com/ihsvoice/docs/25__2_?e=1280723/39788484 .
April 14, 2014
Sophomore Alan Tan triumphs in final round of chemistry competition By Matthew Chan | Opinions Apprentice Chemistry lovers and Mr. Lee's AP Chemistry students packed into room P-7 at lunch from April 8 to 10 during STAR testing week to participate in Mr. Lee's Irvington Chemistry Bowl, ...