Fremont Teen Faces Deportation
Eugene Kotelnikov, a  Sophomore, and his mother face deportation to Russia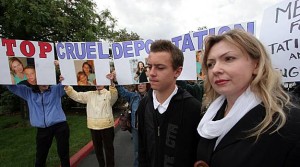 By Neetu Puranikmath
              Eugene Kotelnikov, a 16 year old honors student from Washington High School has lived in the United States for the past 13 years, immigrating from his native Russian when he was three. He grew up in California, speaks little Russian, and listens to Guns and Roses as well as Aerosmith. By June 18th, 2010, Eugene, and his mother Tatiana, will have to leave their Centreville home and move to Russia. Once 18, Eugene will be forcibly drafted into the Russian army. Eugene will be separated from Tatiana Martinez, 10, and Nastasia Martinez, 8, his half-sisters from his mother's second marriage.
                      Eugene's mother, Tatiana, was eligible for a green card and permanent US residency when she married an American citizen she met in Russia. However, she was misinformed of the green card process. Her green card and the necessary official procedures were postponed constantly. When her marriage failed after a couple of years, she lost her chance to be eligible for American citizenship. She has been appealing the US government to let her and her son extend their stay in America. Their latest appeal was denied and they were not informed by their immigration lawyer. Eugene and his mother were arrested, booked, and fingerprinted several days ago. Now, Eugene and his mother stand to have their family split in half as the American-born Tatiana and Nastasia will be forced to remain in California while Eugene and his mother move to Russia.
                     Various rallies are taking place to lobby the government to allow Eugene and his mother to extend their stay in America. Washington High school students marched to Pete Stark's office this past Friday. On Wednesday, Eugene, his mother, and about 60 protesters stood outside Solyndra to attract President Barack Obama's attention. Support can be given by signing an online petition found at a Facebook support group and participating in future rallies. ihsvoice.com will keep you updated on this developing story.