Student Spotlight: Sumon Kyaw
Sumon's special talent of sewing dresses!
By Rashi Saxena
1. What inspired you to begin making dresses?
I've always liked dresses and enjoyed looking at pictures of dresses. But I noticed that a lot of them were expensive. I thought to myself that I should make dresses myself. Also I've gotten to make more as my friends made orders for me.
2. How long have you been making them and how do you make them? How many have you made?
I've just recently started making fancy dresses when my friends started asking me to make them for them. But I've been sewing for a few years now.  I don't know the exact number that I've made but I have made several. The process of making dresses varies for each dress but the basic process is that first I get the necessary measurements. Then I cut the fabric according to the measurements. Next I pin down the fabric in the way that I want it to look like and then sew the parts that need to be connected. I sew on the zipper if it's needed. Lastly I add the final details.
3. Who do you make these dresses for?
I've made them for friends or acquaintances who have asked me to make dresses for them.
4. What do you do with all the dresses that you have made?
The way it usually works is that my friend would make an order for me to a dress designed the way she likes and then I would make it by a deadline. There would be a day when she would try on the dress and I would make the changes that are necessary. Then I would sell it to her.
5. What is your favorite part of the whole dressmaking process?
My favorite part would be when I finish making the dress. I get to see how it turned out and I feel proud of what I have accomplished.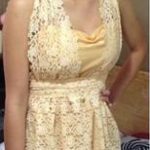 PC: Maxine Imura