Club Rush Returns
The quarterly school event provides food, festivities, and fun
By Enya Kuo
On March 26th, Irvington hosted another Club Rush during lunch in the courtyard. At the event, club members stood on tables and waved signs as the streaming crowd of students weaved among colorful booths during the last week before spring break.
The Hunger Awareness Leaders of Tomorrow (HALT) club sold cheesecake, the French club sold crepes, and the fencing club sold pot stickers; many other clubs sold a variety of food as well. The green advisory helped students recycle food containers and utensils as usual.
"Club Rush for VAC [Visual Arts Club] went really well for us today," said senior Bekky Shin. "We were actually surprised at how popular the ice cream sandwiches were. People kept coming and asking us for them, but we ran out really fast!"
Other students agree on the success of this Club Rush, and some clubs even used Club Rush as an opportunity to work for worthy causes.
"Club Rush is always a fantastic way to fundraise for our club and reach our immense [financial] goals," said junior David Kang, president of Interact Club. "This time, we decided to buy about 80 more musubis, and we sold out in 20 minutes. Shout out to everyone who bought a musubi—thanks for helping us with our goal of alleviating illiteracy in third world countries such as Bangladesh!"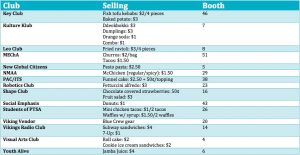 A variety of clubs sold different types of food, ranging from desserts to hot entrees.