New Club Points System
ASB's method of keeping clubs in check has good intentions but raises certain concerns
By Enya Kuo
This year, ASB has implemented a new points system to keep track of club activities, but some students have voiced disagreements about the new plan.
The system requires each club earn at least 240 points from various activities worth a certain number of points. Club Rush and club meetings are worth 10 points each, and clubs must participate in other events such as service learning, interest based events, or campus beautification to earn the points mandatory to remain a club for the next school year.
"Over the past few years, we've noticed a pattern of students starting new clubs as a 'filler' for their college resumes," said junior Kavitta Ghai, Clubs Assistant, explaining why ASB effected this new system. "As they start these new clubs and take up the spots of other potential clubs with their empty promises, they fail to meet the requirements of benefiting our campus."
"The new point system is a way to make sure clubs are remaining active throughout the school year," added Clubs Commissioner Elise Logan, a senior. "We want clubs to be able to grow, instead of remaining idle. I also want to make sure that the clubs we have on campus are worthwhile and will provide students with a great place to express their interests."
However, not all Irvington clubs have embraced the new system. Some note the extra work associated with keeping track of the points, while others disapprove of the cookie cutter types of events required of all clubs.
"I think [the point system] is sort of useless because not all clubs hold regular meetings or have service events, and you can't measure how serious a club is by assigning arbitrary points to what they do," said senior Owen Wang. "Trying to make all clubs conform to one mold seems sort of forced."
According to ASB, the new points system aims to create a better community of clubs on campus, but as the students see it, the plan has space for improvement to accommodate the plethora of interests at Irvington.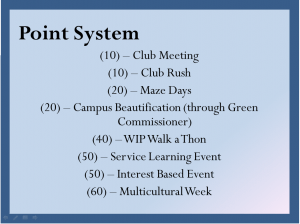 PC: Elise Logan and Kavitta Ghai