IHS Badminton Disappoints at MVALS
Irvington High School fails to place first in MVAL
By Jared Tse | Staff Writer
Irvington badminton finished the season with one qualifying team for NCS. "Overall I was disappointed with this years MVALS, " stated badminton coach Steve  Strout. " I thought we could do a little bit better, but things happen sometimes." Many Irvington players did not make it past the second round of MVALS, disappointing both Coach Strout and students. "I am sad that we only got one entry in NCS and only second place but we will do better next year," stated sophomore Harsh Harpilani. " I was hoping to get at least one first place ranking and at least two entries into NCS."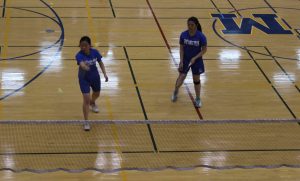 In boys singles, freshman Yagnya Patel showed promise at first and was on a winning streak but was soon shut down as he lost his third game to American High School's Jordy Supandi, who later took first place. Just like Patel, Senior Brian Nguyen and Junior Elita Murtanu were also making notable progress in mixed doubles but lost to eventual champions Yik Hin Wong and Sarah Chang from Mission San Jose High School.
Seniors Jenny Lu and Sophia Chao played doubles and placed second in MVALS. The three set final match started with Mission San Jose's Joanna Wu and Roshni Lyer getting a significant lead. Lu and Chao valiantly tried to catch up but were bogged down with Mission's relentless offence. Despite tying the game at 19-19,Chao and Lu lost the first set at 19-21.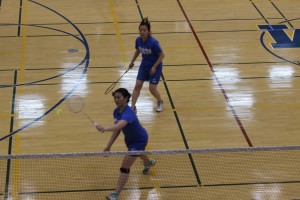 The second set was far more invigorating as Lu and Chao started to play more aggressively. Consistently taking the lead, Lu and Chao were constantly on the offense. For the last point of the set, Lu deceptively hit an overhand drop instead of a smash, ending in a victory of 21-19. In the deciding set, despite leading 11-8 at interval when they exchange sides, Lu and Chao lost the game 19-21.
The top 4 places at MVALs qualify for NCS, and doubles pair Lu and Chao are the sole qualifiers from Irvington.
"I think we were pretty good and disappointing at times," said Coach Strout. "Until we win every single match I would try to improve and become even better."