IHS Badminton Coach for 24 years to be honored in June
 By Jenny Lu | Editor-in-chief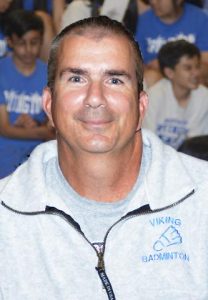 The California Association for all coaches designated Irvington badminton coach Steve Strout as the official recipient of the 2014 California Coach of the Year for badminton.
According to athletic director Michelle Stone, someone within the league who is not affiliated with Irvington nominated Coach Strout for the award, demonstrating the wide range of his impact. Coach Strout and other coaches of various sports–ranging from basketball to tennis–from all over California, will be recognized on June 14 at the California Coaches' Association awards banquet.
Coach Strout has been coaching at Irvington for 24 years; he has coached varsity basketball for 7 years, junior varsity and varsity volleyball for 8 years, varsity tennis for 2 years, and badminton for all 24 years of his coaching career.
Also a member of the North Coast Section badminton committee, Coach Strout "goes over rules and other things to make the sport better." In 2007, Coach Strout submitted a proposal for a state championship in badminton. "I thought it would be a good way to get more schools to participate and to get kids to reach a higher level since NCS is currently the highest level kids can get to," said Coach Strout. "It's finally been approved, and we can have the champions from Northern California to compete with champions from Southern California, to give the kids something more to play for–because a high school championship is worth a lot." Coach Strout has also ran the NCS championship for the past 7 years, a job that entails setting up the draws and heading various coach meetings.
"It's an honor to receive this. This is not something i pursued or nominated myself for, and it's nice to be appreciated. It shows that if you work hard, do a good job, and treat people fairly, you can be appreciated by others," said Coach Strout. "It's not always about winning championships coming in last place that makes you a good or bad coach, it's what you do for everybody."
 "I would like to thank all the players and all the coaches that have assisted me throughout the years who have made me a better coach," added Coach Strout.
As Delphine Ho, an alumnus who graduated in 2013, states, "He cares enough to yell at us, which a  lot of adults don't bother with. He truly wants to make us better athletes."