Love worth $200k
By Cathy Wang | Opinions Editor
In Feb. 2013, homeless 32-year-old Bernard Bey sued his parents for not loving him enough. He claimed his parents had physically and emotionally abused him since he was young by not allowing him to shower and not caring for his social status and problems. His parents denied all the charges and dismissed his lawsuit as "frivolous".
"He's 32 years old. That speaks for itself. Welcome to America." Ms. Vickie Anderson, Bey's mother, said. "Everyone in America has the same opportunity. Don't blame the parents at this point. The choice is yours."
Bey ran away from home at age 12, has been in and out of shelters since 16, and spent five years in jail for drug charges. He blames his poverty and criminal experiences on his parents for not caring about his conditions and filed the lawsuit to the Brooklyn Supreme Court on a laptop from a homeless shelter. Bey demanded his parents mortgage their house and give him $200,000 to buy two Domino's Pizza stores. His family believed that Bey may be suffering from psychological issues, causing him to file the lawsuit. Bey ultimately decided that if he could eat dinner with his parents, he would drop the lawsuit. He has since enrolled himself in automotive trade school to get himself out of poverty.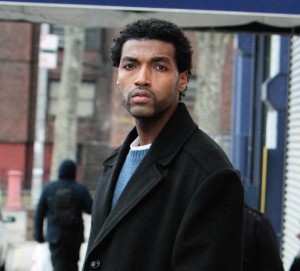 Caption: Bey sued his parents for not caring for him and demanded they mortgage their Brooklyn home for him (Jeff Bachner).