Mission loses football team this year
This year, Mission will not have a football team. Due to a lack of student participation for the team this year, the school had to drop its team altogether. The athletes from Mission who wished to continue playing football were given the choice of joining Kennedy High School's or Washington High School's football team. There is a rumor that the Mission principal would not allow the athletes to join Irvington or American because we are rival schools; however, the real reason why the Mission athletes were not able to come to Irvington or American is because they are "closed schools", meaning they are no longer taking in new students for these sports.
There was an exception for those students willing to transfer schools in order to play football. They do not need to meet the requirements for credits of that school this year; however, this exception will not last next year.
"After the meeting, there were a few players still interested in playing," said Coach Eddings. "They would have had to transfer to either Kennedy or Washington. From what I heard, nobody transferred."
During Spring Ball, only about 10 students showed up to play, far short of the expected amount. There were also only nine incoming freshmen who signed up to play. The coaches came together and decided that the lack of participation meant that the team should be cut altogether.
Dropping the team proved to be a difficult decision for Mission because it's almost impossible to bring back the sport in later years.
"Once you cut a sport, it's very hard to get that sport back," said Irvington Athletic Director Michelle Stone. "One, because of money; two, because of interest [in the sport]".
Although there is one less team in the Mission Valley Athletic League (MVAL), which our school competes in, there will not be any lack of football games this year.
Mission hopes to bring its football team back, but there are grim hopes of doing so because of limited interest and changes in the school's budget that prevent funding to go into the football department.
About the Writer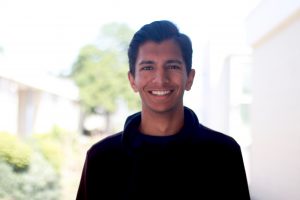 Risheek Priyadarshi, Editor-in-Chief
Risheek (12) is one of the editors-in-chief and is the features editor of the The Irvington Voice. He was a staff writer and sports apprentice during his sophomore year and the sports editor his junior year. This is his third and last year on the staff.

He enjoys gathering information when he writes articles and making layouts for the newspaper. His favorite part about the paper is when students come up to him talking about articles that they read.

He loves to run for fun, binge-watching Netflix shows, taking photos, sleeping till 9 p.m., and spending time with family and friends. He also enjoys going on adventures to new places and wishes that he had a driver's license so he could do that more often.