Current teacher shortages foreshadow future issues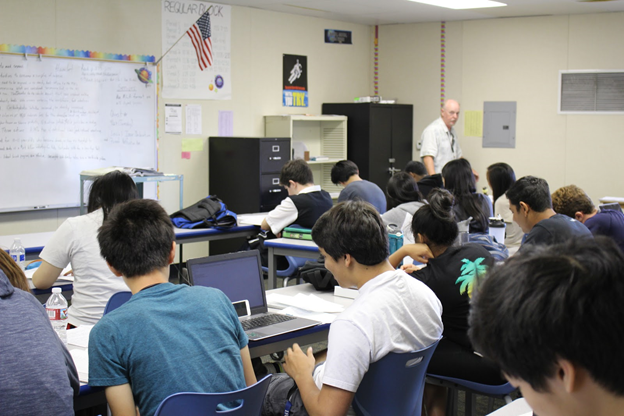 Anyone who has tried to frantically get back to class after lunch knows firsthand how congested, and uncomfortably intimate, the entrance to the freshman hallway can be. While statistical projections report that Irvington's student population will only grow, conditions that have resulted in an unfilled position in the English department demonstrate the difficulty of hiring new teachers to counter overcrowding. One such teaching position is assigned freshman and senior English classes, and is currently being held by long term substitute Lyell Walker in P16. Principal Smoot confirmed that although many potential candidates responded, the majority from either Southern California or outside states, applicants have been discouraged by high housing costs.
        "We've had people that have expressed interest. They were on EDJOIN [an online education job site]," said Principal Smoot. "We contacted them but they then declined the position and sometimes even declined to interview."
        The English position vacancy is not a solitary incident; a similar empty position in the health department was only recently filled. Although the health slot had been publicized since April, only five candidates expressed interest. The position is now held by Mr. Gulet, a recently hired Irvington P.E. teacher with credentials in health, who teaches in Room 13.  
        Irvington's current enrollment is 2,267 students, which is a healthy number but nothing compared to the 2,736 students that the FUSD enrollment projection predicts will attend Irvington by the year 2022. Residential development, coupled with a consistent and moderate stream of immigration, will likely only further the predicted population boom.
Thanks to the FUSD policy 6151 AR in section 6000 Instruction, which maintains high school student-to-teacher ratios of around 30 to 35 students per teacher and provides more teachers if necessary, current land development and immigration levels do not affect class sizes. The availability of courses is adjusted annually, determined by enrollment numbers and registrations. This adaptability currently allows Irvington to accept any student within the school's attendance area. However, the issue of overcrowding is prevalent in FUSD elementary schools, where fixed class sizes force incoming students to attend inconveniently distant schools.
"We have roughly 1,050 students who are on an overload," said Greg Bailey, director of FUSD Student Support Services. "Some of the students will be on overload for many years."  
        While Irvington is currently only hiring one long-term substitute to fill in for a vacant post, this may change soon. Rising housing costs, projected student population growth, and the current condition of elementary schools indicate inevitable future overcrowding.