Varsity girls' tennis outplays Kennedy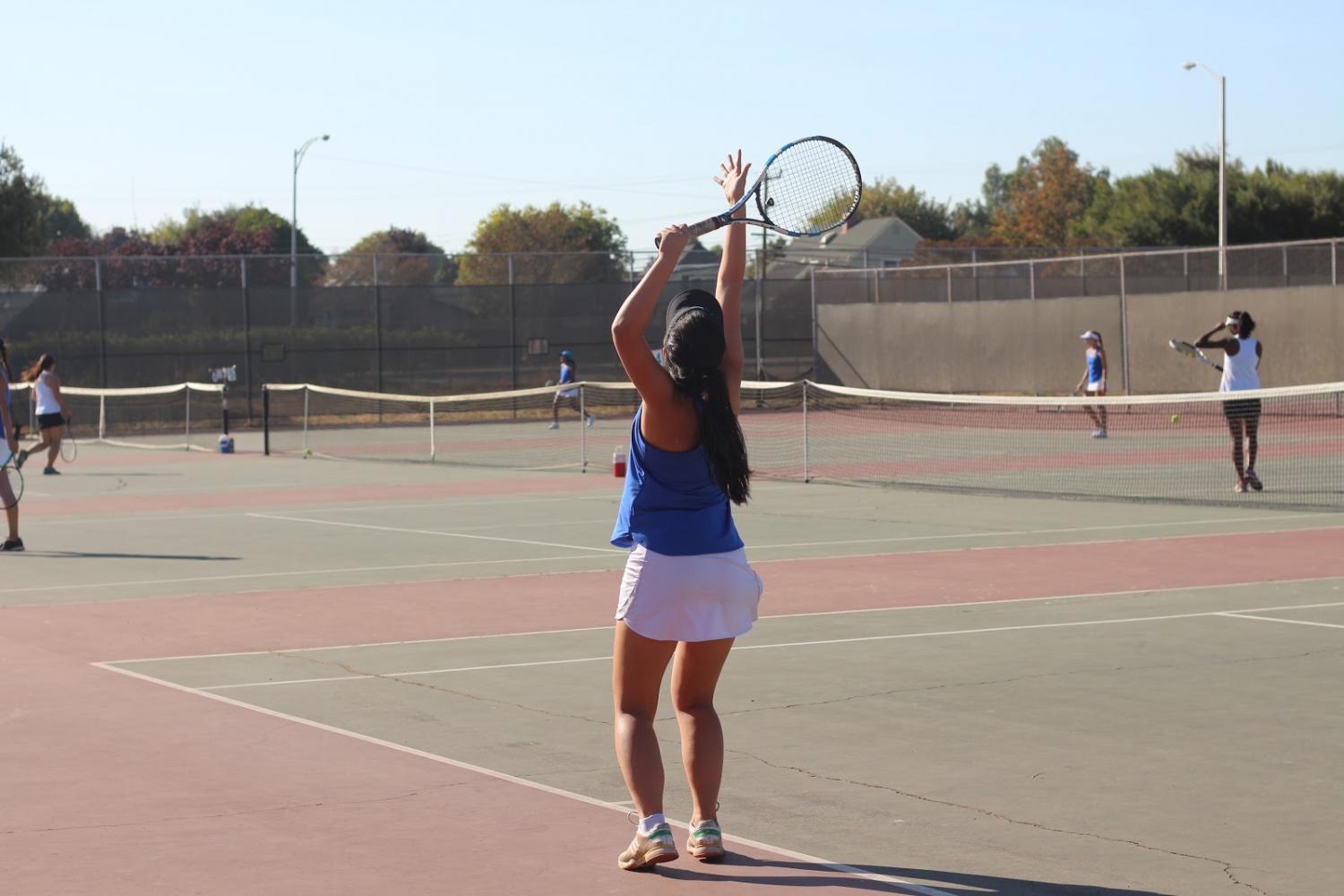 Irvington's Varsity girls' tennis team played against Kennedy in a series of home games in Irvington's outdoor tennis courts on Sept. 29. Irvington clinched the win with a score of 6-1, through team spirit, perseverance, and concentration.   
Players viewed the matchup as more of a mental challenge and a chance to improve their strategical thinking and mental strength. After a brief warm-up and customary lineup where both teams greeted one another, the game assignments were read aloud: four singles games and two doubles. Varsity players then split off to their designated courts and began to play.
Rallies in the first portion of the games were in general rather casual. In court one, team captain Amanda Tran (12) took on a defensive position and had difficulty returning her opponent's shots, which were widely scattered across the court. When the score reached 0-15, Tran traded shallow, far-reaching shots with her opponent in a rally of endurance, only to lose the point in the end.  Team captain Katie Grant (12) in court three remained near the net and exchanged soft drop shots with her opponent. Team members on the side of the court actively cheered the players on, urging them to remain cool-headed and focus on strategy.
"I think Kennedy was a good team," Tran said. "It's just personally, I let myself lose the game. I was making my own kind of mistakes which costed me many points. Other girls however had trouble with bad line calls [balls that are incorrectly called out] and that frustrated them, but they got over it."
The second portion of the set was significantly more intense and taxed many of the players' composure. The doubles team on court two, which was made up of Brianna Nguyen (11) and Namrata Vedagarbha (10), struggled against the Kennedy players' spontaneous and energetic play style. They managed to keep the ball in play through teamwork and a solid supportive strategy. In court three, Alice Ma (10) and Jacqueline Gullion (11) were able to win with a combination of ambition and confidence.
"I played a girl right at my level, which meant that I had to work extra hard to win points and games. It was like playing against a mirror of myself so I had to quickly identify my opponent's weaknesses while pacing myself," said junior Allison Cheung. "I believe I won because I was more hungry for the win! In future games, I'd like to improve on my mental strength by reducing my frustration, being patient, and staying optimistic."
Irvington's overall victory can be attributed to the players' self-control and competitive spirits. The singles games demonstrated the power of persistence and a strong mental state while the doubles displayed solid defenses bolstered by teamwork and confidence. Every player acknowledged the importance of an in-game mentality.