Wanna Khanna Congress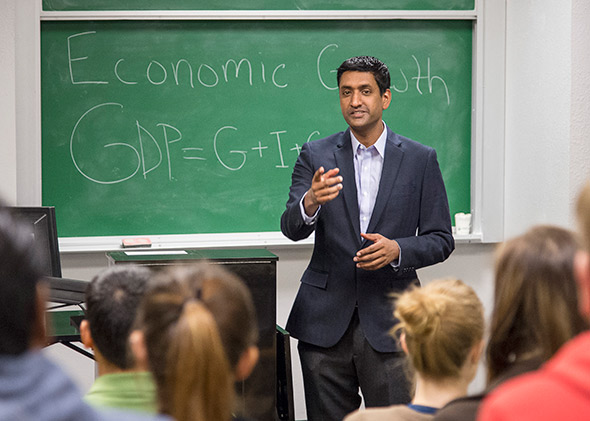 Wanna Khanna Congress

By Manbir Ghuman | Photo Editor & Web Editor
Rohit "Ro" Khanna is running to become the California 17th Congressional District's representative against incumbent Mike Honda. With years of devotion to the community and a vast prerequisite of qualifications, Ro Khanna is the best choice for the seat on the 17th Congressional District.
In 2014, Khanna ran for Honda's seat in the House of Representatives but was unsuccessful and announced that he would still keep fighting to help California.
His popular policies and amazing service have gotten him several endorsements from Jimmy Carter, the 39th president of the United States, Gavin Newsom, the Lieutenant Governor of California, and Alex Padilla, California Secretary of State. In the 2012 race, President Obama endorsed Honda but in the new race he has decided not to endorse Honda again.
With a lifetime of service, Khanna has been actively working to improve lives in California, from the securing jobs to protecting our environment. When the New United Motor Manufacturing Inc (NUMMI) closed, Ro Khanna took part in securing a grant that allowed Tesla to buy it ensuring job growth. He has also fought to hold the Lehigh Southwest Cement Plant accountable for being a major polluter that negatively affects our community everyday.
Several of Khanna's platform priorities include progressive advances for minorities and protecting the community. For instance, one proposed platform is raising the minimum wage in order to allow people living in the C-17 district be able to make a livable wage. With a wide knowledge on the economy, Khanna is determined to build a strong economy from the bottom-up.
In order to ensure that new policies are not being tainted by lobbyists, PACs, and corporations, Ro has taken a major stance on not accepting any money from these groups. On the other hand, Honda has a major problem with accepting money from organizations that he is currently undergoing investigation by the House Ethics Committee with "substantial reason to believe" there was a violation. He has been accused of providing favors to bigger donors which could be detrimental to California.
In September, Honda filed a lawsuit against Khanna for allegedly hacking into Honda's donor list to contact supporters. This entire lawsuit is simply just a stunt in order to question Khanna's ethics. There was no evidence that Khanna had access to this list and once he knew, Data Director, Brian Parvizshahi did have access to these accounts, he immediately accepted Parvizshahi's resignation.
Although both candidates are democrats, Khanna has repeatedly shown that he is fighting for the people using his vast experience and knowledge on the economy and law. It is important to take into account that even though both candidates may hold similar progressive stances on issues, Khanna is not being influenced by other parties, unlike Honda. With a track record of bringing jobs and prosperity to California, Khanna is the best choice for California 17th Congressional District's representative.