Bringing change to Irvington one club at a time

Let's End the Stigma and Bring Change to Mind (LET'S BC2M), the high school division of the larger non profit organization Bring Change to Mind, is fighting to end the stigma against mental illness. Through raising awareness and creating a platform for inspirational speakers and open conversations, the club increases high schoolers' awareness about the issue as well as stress and anxiety, and it provides a safe space for everyone.
"To me 'bring change 2 mind' means changing mindsets," President junior Rachel Guo said. "Open-mindedness is an important asset teenagers should foster during their young adult years, and I hope we all leave high school with an open mind toward everything— whether it be mental health, race, or class."
LET'S BC2M raises awareness in unique ways, giving surveys about mental illnesses and ways to help those battling such illnesses to members. Berkeley's BC2M branch provides the surveys and uses the data collected to conduct further research about the perception of mental illnesses.
The club is collaborating with Film Club to enter the Directing Change Program and Film Contest, where students create a one minute video about suicide prevention and mental health that are used to support awareness, education, and advocacy efforts on these topics.
"We want to eventually introduce events around the school that show support for those with mental illnesses and overall make [school] a safer environment," Vice President junior Iris Wen said. "especially because Irvington has a lot of students who are stressed and just try and ignore their problems."
Previously,  the club hosted a guest speaker, Tony Park from San Francisco's Mental Health Board, who spoke about her personal battle with depression. Her depression combined with poverty resulted in a downwards spiral that culminated in homelessness. However, a non profit shelter helped her back on her feet and she now works for the same nonprofit, helping those in her situation.  
"[LET'S BC2M] has made me more aware of the little things that people say and do that have negative connotations to people with mental illnesses,"  Multimedia Director junior Emily Pi said. "the stigma against mental illness is really big. A lot of people hear stereotypes and may assume things that may not be necessarily true because there aren't a lot of spokespeople speaking up."
About the Contributor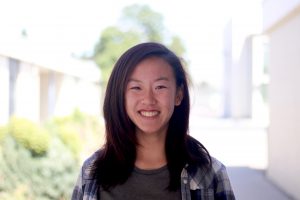 Zarah Zhao, Staff Writer
Zarah (11) is a staff writer and features apprentice for the Irvington Voice. This is her first year on staff. She loves sleeping, dogs, and fries, and also enjoys taking photos and adventuring in her free time. Her favorite places include her bed and SF. Her favorite part of the journalism process is interviewing new people for articles.