Sinking in ink: Irvington's paper consumption
From checking out books to doing research to printing assignments, Irvington's library is a valuable resource for students. Student printing at the library increased a few years ago, but has leveled out in recent years. However, we still use plenty of paper and ink.
During the 2015-16 school year, students printed 79,689 pages in the library and career center. This is equal to 159 reams of paper, 10 of which are in a case that costs $35. According to Ms. McAuley, ink is $35 per cartridge, and the library uses 3 to 4 cartridges a year. Students pay $0.05 per page, which raised about $4,000 last year.
The library is equipped with PaperCut, a program used to save paper and ink. Misprints or accidental print jobs can be stopped from a librarian's computer. This is why students must provide their ID number every time they print, to ensure that their print jobs are correct and that they are printing the correct number of pages. By minimizing mistakes, Irvington has saved a significant amount of paper and ink.
From the beginning of this school year, since Aug. 31, the library and career center has printed 26,879 pages. Thanks to PaperCut, librarians Ms. McAuley and Ms. Morales stopped 2,926 pages from being wasted. This software also gives the number of pages in relation to other finite resources, so the number is reflected in a more meaningful way. 2,926 pages is equal to 12.5 kilograms of CO2 that would go into our environment. It is also equal to 789.1 hours of light bulb hours saved, and 3.46 percent of a tree.
Irvington is the only high school in the Fremont Unified School District that uses PaperCut.
About the Writer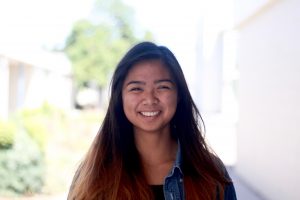 Breanna de Vera, Staff Writer
Breanna (12) is a staff writer. She enjoys writing short fiction and biographical work when not writing for The Voice. She drinks a lot of tea and likes cats, but will not be a cat lady when she grows up. She also has a penchant for avocados and a particular bear known on Instagram as @kevsleepybear (follow him!) This is her first year on the staff.