Vikings bundle up for winter week
Monday: Pajama Day
Monday felt like never leaving one's bed, because in addition to wearing warm fuzzy pajamas all day, there were also a cereal bar and cartoons in the cafeteria in the morning. ASB set up a holiday photo booth in the cafeteria for the week, featuring a winter wonderland, complete with snow and a gingerbread house.

Tuesday: Holiday Hats
Santa and many reindeer were at Irvington on Tuesday, because it was holiday hat day. Unfortunately, the sponsor for hot cocoa bar cancelled last minute, so there was no hot cocoa bar.

Wednesday: Ugly Sweaters
Wednesday was the day to wear ugly (or holiday themed) sweaters, and the hallways were full of Christmas-themed pugs and fair isle patterns. During lunch, the holiday lip sync battle was cancelled due to a lack of sign ups.
For freshmen, a two day LINK scavenger hunt started on Wednesday. Sophomore Nick Wilson dressed up as Santa Claus and the LINK leaders and freshmen would earn a point for each photo with him. The winning team, led by Link Leaders Catherine Cheng and Rishik Lad, received a gift card.
Thursday: Holiday Fuzzies
Besides the fuzzy themed dress up day, there was also a cookie decorating contest in the cafeteria during lunch. Three teams gathered around the table with various ingredients—frosting, sprinkles, marshmallows—in competition to produce the prettiest cookie. Senior Mary Wang judged the cookies, but ultimately decided that all were delicious.
For LINKmas on Thursday, the scavenger hunt involved locating sophomore Katie Lee, who was dressed as the "Holiday Fuzz Monster."
"A lot of times, people get this idea that they are 'too cool' for spirit days and this activity was to break that idea to get the freshmen to leave their comfort zones," Lee said.
Friday: Unity
On the last day of winter week during lunch, ASB featured a slideshow in the cafeteria displaying photos from winter week, of people participating in events and dress up days.
For LINKmas, link Leaders and their freshmen met in cafeteria to decorate their cookies.
"I bonded with my kids as well as some other stray kids as well," senior Justin Pi said. "We had a great time making crazy cookies."
Although scheduling was odd this year, Irvington still had a successful Winter Week from Dec. 12 to Dec. 16. Because Christmas fell on a Sunday this year, FUSD had to adjust school schedules accordingly to ensure the right number of hours. There was no school on Dec. 23, the week after, and because both days before were block days, IHS was unable to have a Winter Rally.
About the Writer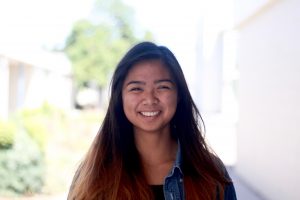 Breanna de Vera, Staff Writer
Breanna (12) is a staff writer. She enjoys writing short fiction and biographical work when not writing for The Voice. She drinks a lot of tea and likes cats, but will not be a cat lady when she grows up. She also has a penchant for avocados and a particular bear known on Instagram as @kevsleepybear (follow him!) This is her first year on the staff.