FUSD experiences budget shortfall
Raul Parungao, FUSD Business Administration Superintendent, announced on Jan. 25 at the school board meeting that the district would be experiencing drastic budget shortages
in the 2017-2018 school year.
The shortfall is largely attributed to Governor Jerry Brown's recent preliminary state budget reduction plan. Under this plan, Governor Brown plans to cut funding for
Proposition 98 – which requires a minimum percentage of the state budget to be attributed
to K-12 education funding. As a result, FUSD expects to lose 191 dollars
per student leading to a net loss of 6.3 million dollars in state funding.
Additionally, the California state government mandates that schools set aside money for certain designated programs. This, coupled with the decreased funding, places an immense burden on the school districts to adapt quickly and restructure their finance plans for the upcoming years.  
Among these mandated programs is a statewide pension plan whose cost has been increasing exponentially over the past years. The San Francisco Chronicle reported that California schools must double their contributions to the California Public Employees' Retirement System known as CalPERS over the next six years. This, according to Budget Administration, amounts to a 5 million dollar additional cost spent by the FUSD. Teachers of the district also will enjoy a 2 percent increase in salaries in the next school year. Special education costs are expected to rise. Plans to hire more teachers due to decreased class sizes along with the aforementioned cost were all expected to be covered by the state's annual funding for education. Irvington is not the only school to feel the pressure of the new state budget, as schools all across California are experiencing budget shortfall due to similar pressures with increasing pension costs and a raise in teacher salaries. Other highly affected counties include San Diego and San Luis Obispo.
But, in response, Mr. Parungao and the rest of his staff, have drafted approaches to offsetting the 23 million dollar shortfall. At the Feb. 22 school board meeting, he touched upon increasing class sizes for TK (transitional kindergarten) to second grade, postponing the district fund to replace outdated computers, as well as suspending new textbook adoption as possible solutions to balancing the budget.
"One way to look at it is that instead of cutting 23 million dollars from the classroom, because students are going to feel that, we decided to cut 7.8 million dollars with all of the various solutions added together. And on top of that, in order to balance the budget, we used some of our savings," said Mr. Parungao, when interviewed by The Voice, "This way, our strategy has less of an impact on our students and classrooms."
These solutions combined with money saved by the district will be able to offset the budget shortfall, but must be approved by the school board.
"We want to slowly make some changes in the hopes that the California state government may respond. Currently, the state government is sitting on billions of dollars called the rainy day fund. The state is not sending the money to education, even in these times of difficulty," said Mr. Parungao."We, as students and adults, must approach local legislators and the state government to give us some of these funds. After all, the rainy day fund is meant for the rainy day."
About the Contributor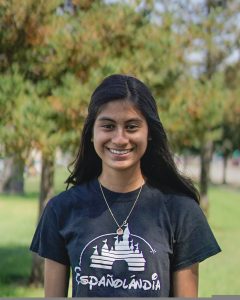 Isha Sanghvi, Editor-in-Chief
Isha (12) is the news editor and one of two, editor-in-chiefs for The Voice. Not only does she enjoy using her voice for expression through journalism, debate, and creative writing, she also loves destressing to rap and Broadway music! A human of many contradictions, Isha can either be found spitting fire bars, or trying to uncover the latest front page story.