Irvington's DECA wins big at Norcal Conference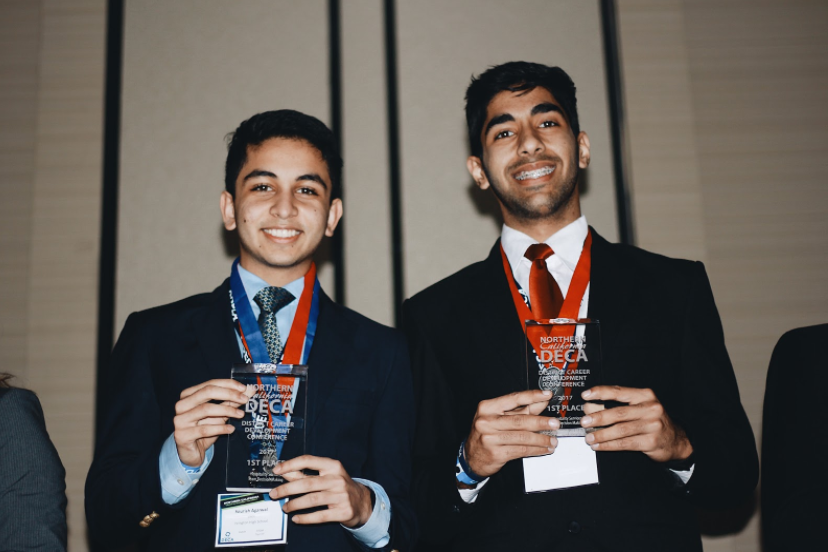 Vivian Hoang, Staff writer
February 2, 2017
Irvington's DECA club recently established itself as a powerhouse in the 2017 NorCal Career Development Conference in San Ramon with a total of 23 teams placing in the top three and 54 overall finalists. Irvington topped Dougherty, Foothill, and Amador High Schools; all are considered powerhouses. The chapter broke a personal record of six first place trophies at NorCal, with a total of nine teams taking home the first place glass despite the recently enacted career technical education (CTE) rules.
"This year was definitely one of our biggest years coming off of the new CTE rules and regulations," DECA President senior Sam Moturi said. "Despite all of those regulations, Irvington was the biggest chapter with 94 members. Moreover, we had a phenomenal increase in winnings, especially from our freshmen."
Some highlights of the competition included an all-Irvington freshmen podium sweep: Kathan Shah, Samridh Bhattacharjee, and Vaibhav Ippili, placed first through third respectively in the Principles of Hospitality and Tourism category in both mini-awards and final results. The Irvington chapter also placed first in five of the six operation research events.
"DECA has been a really fun learning opportunity that was made easier with the help of great mentors and officers," said freshman Kaitlyn Phan, first place winner in the Hospitality and Tourism Operation Research.
Irvington's DECA club has come a long way. In 2014, Irvington sent 127 members to the NorCal conference. There were 22 teams who placed in the top three, and six first place winners. Despite a decrease in only 94 members going to the conference this year, there were nine first place winners and 23 top three winners.
"We have come long ways since 2012 when 'Irvington High School!' was barely called up to the podium at all," said club advisor and former Irvington DECA member Greg Chi.