Logan takes Irvington by storm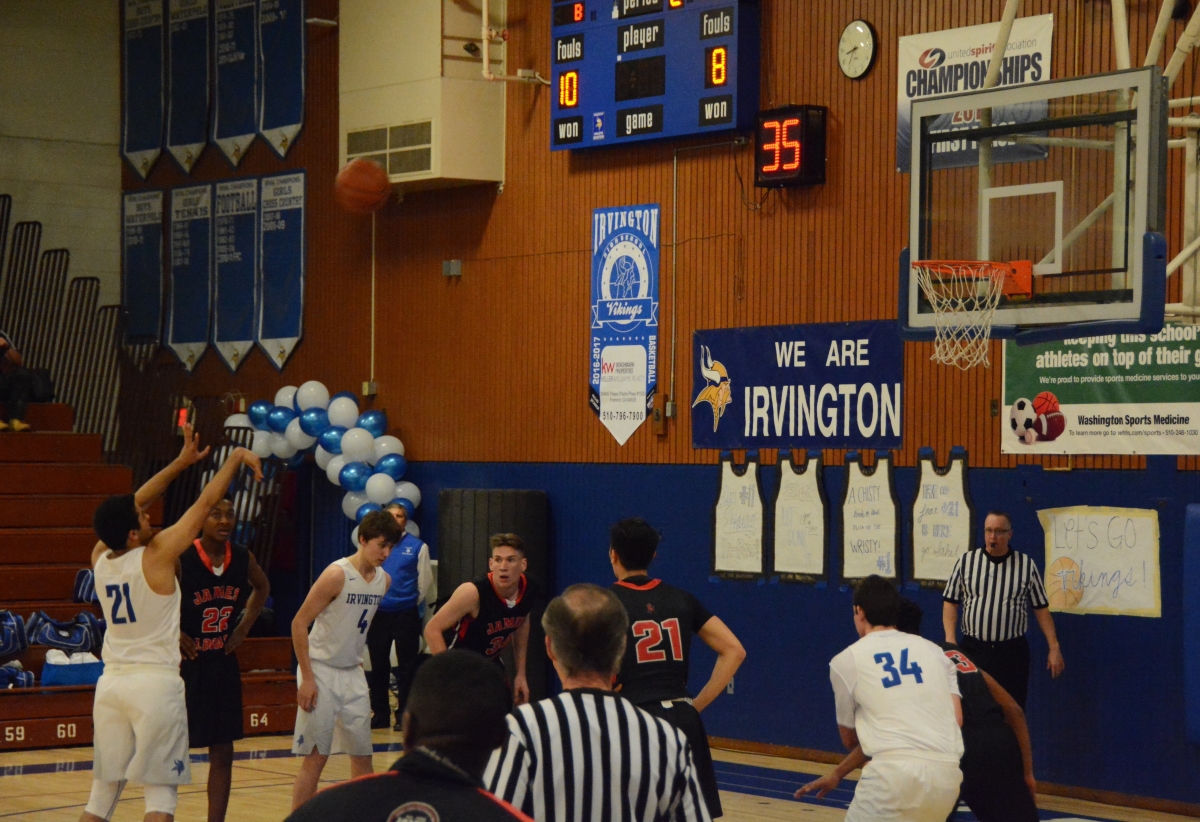 Vivian Hoang, Staff writer
February 6, 2017
On Feb. 19, Irvington's boy's basketball faced defending league champions Logan for the final game of the season. It was the second time the two schools faced off this season, after all three teams faced losses in January. The freshman team started the night with a 43-65 loss. Junior Varsity also lost to Logan's team with a final score of 59-69.
At the end of the Junior Varsity game, a fight broke out between the two teams with several blows being exchanged before coaches and referees could stop them. According to eyewitness reports, a Logan player provoked and distracted Irvington players by whispering profanities to them. Michael Guerzon, freshman and Junior Varsity wing and shooting guard,  said that after some shoving, one of the Logan players shoved Jimmy Wang (10). Wang shoved back in retaliation and Musa Quddus (9) punched a player of the opposing team, who then, in turn, punched Taylor Stone-Amandi (9). By the end, everyone got a piece of the action and the coaches and referees were forced to step in. The rough ending for Junior Varsity was only a precursor to what would happen during the Varsity game.
Despite a night of losses and the rainy weather outside, the mood of the seniors was not dampened as they strode down the court with their parents under a balloon arch to the cheers of an adoring home crowd for senior night. They were given a hero's welcome and portraits signed by the entire team. The seniors on Varsity were Ammar Chishty, Ian Hsiao, Sahil Bobba, and Serge Chavez.
"Four years of high school basketball has been great," said Varsity captain Sahil Bobba (12). "There were so many great games and events that I'm never gonna forget, and I've made so many great friendships with so many players."
In the first quarter, the two teams were evenly matched with Irvington trailing by only a few points. The team utilized long passes and scored mostly with 3-pointers. However, by halftime, the score was 35-45, and both teams had committed numerous fouls. In the second quarter alone, Irvington gathered ten fouls and Logan eight. In the final quarter, the team scored primarily through free throws. The Vikings ultimately lost the game with the final score 47-70. Sahil Bobba was the top scorer of the night with 21 points.
"Our plan was to pass the ball around and generate easy shots, and we needed to stop them one-on-one on the defensive side," forward Andy Zhao (11) said. "We started off really strong, but they turned on the intensity in the third quarter and we never found a way to match it."
Despite the loss, the team learned a lot from the game that could be applied to next year's season.
"I learned the Colts [Logan] were a tough team, and we need to be a tough team as well," head coach Ron Littleton said. "As soon as the boys learn that, we'll be good."